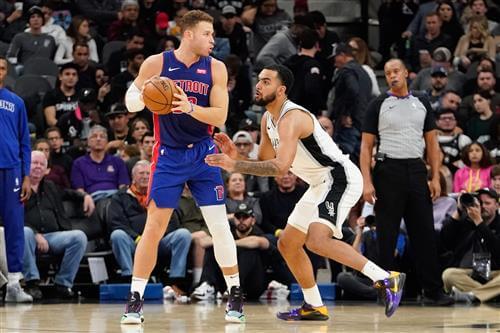 The Denver Nuggets will not be pursuing a sign-and-trade deal with the Detroit Pistons for power forward Blake Griffin, per Mike Singer of the Denver Post.
"That's definitely not happening," a Nuggets source told Singer on Friday.
Speculation about a potential deal occurred on Twitter. John Hollinger of The Athletic notably tweeted that Detroit's deals for Denver forward Jerami Grant and center Mason Plumlee earlier in the day were "enough" for the Pistons and Nuggets to hypothetically pull off a sign-and-trade for Griffin.
The 31-year-old forward averaged 15.5 points and 4.7 rebounds per contest during an injury-shorted 2019-20 season that lasted just 18 games. The six-time All-Star and five-time All-NBA team member averaged 24.5 points and 7.5 boards per game the year before en route to leading the Pistons to the NBA playoffs.