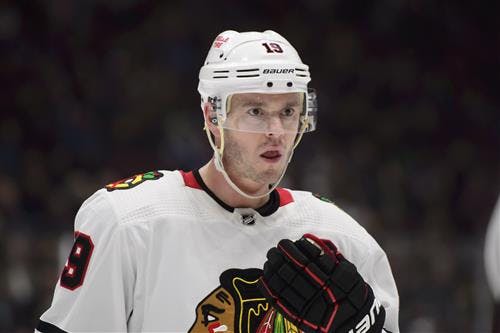 The March NHL trade deadline is getting closer, which means the focus on Chicago Blackhawks star center Jonathan Toews is only going to get more intense. Toews has yet to waive his no-trade clause, but if he does, these are some of the best NHL trade deadline destinations for the legendary Blackhawks forward, whose current contract is set to expire at the end of the 2022-23 NHL season.
4. Washington Capitals
The center position isn't much of an offensive threat for the Capitals from a goal-scoring standpoint. Dylan Strome headlines Washington centers with just 11 goals, though, his primary goal really is to feed Alex Ovechkin. Which is also why he's already got 25 assists on the season. Evgeny Kuznetsov remains a smooth playmaker on the second line with 35 assists to date.
However, Nicklas Backstrom is still trying to even get close to his old form. Meanwhile, Lars Eller, together with Strome, has been scratched in multiple games recently. It's not looking good at the moment for Washington's center room. The Capitals could be in the market for center help ahead of the NHL trade deadline, and Jonathan Toews can be one of the names to watch out for in D.C.
3. Minnesota Wild
Minnesota is only averaging 3.09 goals per game, which is good for only 20th in the league this season. The Wild do look like a team that could use a boost on offense, particularly from the center slot. Joel Erikkson leads Minnesota's centers with 17 goals as part of the second line. Meanwhile, Sam Steel only has eight goals while playing mostly alongside Kirill Kaprizov and Mats Suzzxarello on the top line. S
teel doesn't really have to be all that aggressive in hunting for his own shots, given the quality of his linemates, but he can still do better, at least in terms of accuracy. Steel and Erikkson are connecting on 13.1 and 12.1 percent of their shot attempts on goal, respectively.