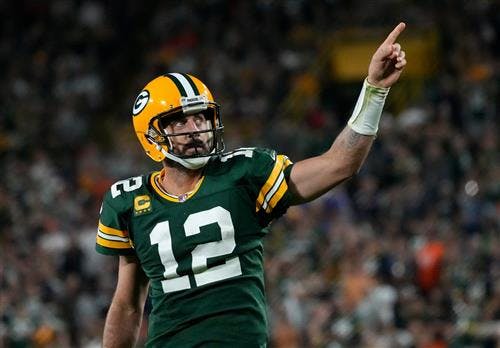 The NFL is conducting league meetings this week in Arizona, and one of the hottest topics of conversation is the future of Aaron Rodgers and the prospective trade that would send the four-time MVP to the New York Jets.
Rodgers has made it clear he wants to play in New York. The Jets have made it clear they want him to. As of now, the deal hasn't materialized, but Jets GM Joe Douglas expressed confidence it will get done.
"There's been some productive conversations," Douglas said, via NFL Network's Mike Garafolo. "We're not where we need to be yet but I feel we're in a good place. There's no hard deadline. There's not a ton of urgency from our standpoint but very optimistic."
Per Yahoo Sports' Charles Robinson, the main thing that has the Jets and Packers "stuck" in talks right now are the protections on a 2024 draft pick if Rodgers retires after the upcoming season.
"A sticking point in the talks is the Jets seeking an element of protection built into the trade, specifically one that sends some 2025 draft compensation to New York from Green Bay if Rodgers does not play in 2024 and beyond," Robinson wrote.
Robinson noted the current trade focus is on a second-round pick in 2023 and a second-round pick in 2024 that could become a first-rounder with "achievable" team performance escalators.
The most likely scenario appears to be Rodgers playing in the Big Apple in 2023. But there are still a handful of ways this saga could play out—including ones that don't involve Rodgers playing in green and white.
Here's a look at them, ranked from disastrous to dandy.
5. Zach Wilson as the Jets' Week 1 Starter
While speaking to reporters at the NFL league meetings in Arizona on Monday, Jets head coach Robert Saleh said that he believes Zach Wilson still has a future in New York—as the team's backup quarterback.
"He's our No. 2," Saleh said. "I really still think Zach has a future in this league to be a really good quarterback, I really do. He has the work ethic, he has the mindset, he's coming in here to attack it. But, yeah, we're counting on him to be a fixture here for a while."
It's not hard to see why the Jets are relegating Wilson to the second-string role. In two seasons, Wilson has completed just 55.2 percent of his passes. He has more interceptions (18) than passing touchdowns (15). His passer rating is 70.9. And he appeared to lose the locker room last season.
However, there's a scenario in which Wilson winds up as New York's opening day starter—and it's one that likely keeps Douglas up at night.
There has been speculation that Green Bay wants the 13th overall pick in the 2023 draft as part of a deal for Rodgers, though Packers GM Brian Gutekunst said Monday that he doesn't necessarily need a first-round selection.
Nonetheless, both sides should be plenty motivated to get a deal done (the Jets need a quarterback, the Packers need to get an unhappy Rodgers off the books), but it's possible the two sides could dig in and stubborn their way out of the deal. It's also possible that Lamar Jackson could either find a new home or mend fences with his old one during that stalemate.
That would leave the Jets either looking at options like Matt Ryan and Carson Wentz or giving the second overall pick in the 2021 draft one more chance—and potentially leave Saleh and Douglas looking for work a year from now.