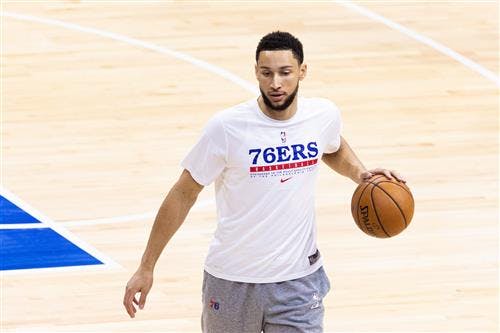 The Philadelphia 76ers have to figure out what to do with this Ben Simmons situation. They are ready to play hardball with him, as they expect him to return to the team and play with them this NBA season.
It is something that Simmons has said will not happen. He will sit out until he is traded, even if that means skipping training camp. Philadelphia has countered that, saying they will fine him for everything that he misses, whether it is training camp, preseason games or regular-season games.
This is a staredown between both sides, and someone will have to blink eventually. More than likely, it will be the 76ers who will, eventually trading him. This is a saga that needs to come to an end sooner than later, for everyone's sake.
Dragging this into the regular season doesn't help either side. Simmons' value isn't going to improve with him away from the team. They would be better off completing a trade so that they can move on with the players that want to play for the team.
Multiple teams have been linked to Simmons this offseason. The Minnesota Timberwolves and Cleveland Cavaliers have been the most recent frontrunners for him. However, the Portland Trail Blazers, Sacramento Kings, Golden State Warriors, Toronto Raptors and Indiana Pacers have also been linked to him.
But, another team could emerge in the Atlanta Hawks. How would a deal for Simmons work for them? Let's take a look at this hypothetical deal from Bleacher Report that pairs Simmons with Trae Young in their backcourt.
Atlanta Hawks Receive: G Ben Simmons
Philadelphia 76ers Receive: G/F Cam Reddish, SG Kevin Huerter, PF Danilo Gallinari
It needs to be noted that this deal is being proposed as a continuation of a separate deal. The Philadelphia 76ers made a separate trade with the Portland Trail Blazers in the Bleacher Report piece before doing this one with the Atlanta Hawks.
The 76ers traded Tobias Harris to the Trail Blazers in exchange for CJ McCollum. Following that trade, they flip Ben Simmons to the Hawks in the proposed trade above, essentially making this a three-team deal.
Coming to the City of Brotherly Love are Cam Reddish, Kevin Huerter and Danilo Gallinari. On its own, this package isn't overly encouraging. But, when in conjunction with the other trade made, this package is a solid deal.
Reddish is someone the Hawks have been reportedly shopping this offseason with an eye on the future. Atlanta knows their core is going to get expensive and could look to make some changes. The No. 10 overall pick from the 2019 NBA Draft still has incredible upside.