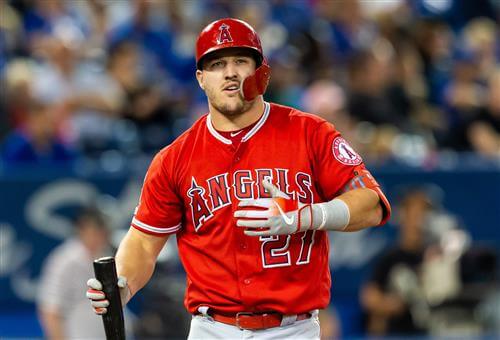 The game of baseball suffered a bit of a crisis during this year's free agent period. To put it simply, teams weren't willing to pay anything for players who wouldn't completely change the course of their franchise, and when they did find one of those players, agreements wouldn't be reached until after days and weeks of negotiation.
Some of the best players available went all the way to the draft without getting signed. Still, that doesn't mean there wasn't some big money thrown around at the end of the day.
Both Bryce Harper and Manny Machado stretched out their free agency until signing deals worth $300 million and more, and Mike Trout, the game's best player, stayed patient and got his record-breaking deal north of $400 million.
Here are some of baseball's highest-paid players in the 2019 season:
5. Albert Pujols, Los Angeles Angels – $28 million
Pujols has two years left on his 10 years, $240 million deal he signed back in 2012. The future Hall of Famer's numbers have declined in his late 30's, but he's still one of the most feared hitters in the game. He's played over 100 games and recorded double-digit home run totals in every year of his career; however, last year was the first since 2013 where he didn't hit more than 20 homers. A lot of money for a star on his last legs.
4. Yoenis Cespedes, New York Mets – $29 million
Yoenis Cespedes might be a signing that Mets fans want to forget about already. After a stellar 2015 season where he helped guide the Mets to its first World Series appearance since 2000, he's been injured more than he's played. He's only played in a combined 119 games over the last two seasons and has yet to play this year as well. However, when healthy, Cespedes is one of the better, more powerful outfielders in the game. But those moments have been few and far between.
3a. Bryce Harper, Philadelphia Phillies – 2019 Total: $30 million
Harper was the biggest catch of the winter and while the track record on players who sign long term, mega-million deals aren't all that great, the Phillies decided to do it anyway and signed Harper to a 13-year, $330 million deal. At just 26, the deal seems appropriate since the Phillies would like to keep him for the rest of his career. His front-loaded contract gives more of his money up front, as he's expected to get $26 million from the Phillies from 2020-28, then $22 million per year for the final three years of his deal.
Plus, when you toss in his $20 million signing bonus his endorsements from partners like Under Armour, Rawlings, Sony, and Gatorade, he's bringing home a total of $39 million this year. All in all, Harper got what he was looking for in free agency.
3b. Manny Machado 3B, San Diego Padres – 2019 Total: $30 million
Like Harper, Machado also got a $20 million signing bonus when he signed a 10-year, $300 million with the Padres over the winter. He'll make nearly as much this year alone as he did in his first seven years in the league ($34 million).