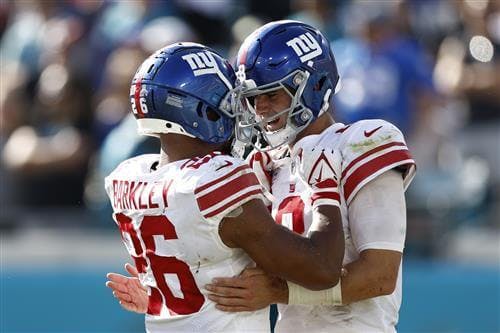 The Giants' situation with two of this year's top free agents may be evolving. After the team held Saquon Barkley negotiations during its bye week and did not discuss a deal with Daniel Jones, the two offensive pillars may have flipped in priority.
Second-year GM Joe Schoen was more declarative regarding a desire to retain Jones than Barkley, citing positional value. Despite Barkley's two Pro Bowls, retaining Jones looks to be Big Blue's top task.
"We'd like Daniel to be here. He said it [Sunday]; there is a business side to it. But we feel like Daniel played well this season," Schoen said, via ESPN.com's Jordan Raanan. "He's done everything we've asked him to. … We would like to have Daniel Jones back.
"We're happy Daniel is going to be here. Hopefully we can get something done with his representatives. That would be the goal, to build a team around him where he could lead us to win a Super Bowl. It takes two. Both sides are going to have that conversation," Schoen said. "We haven't crossed that bridge yet. There are tools at our disposal."
Jones, 25, enhanced his value considerably this season by piloting the Giants to their first playoff win in 11 years. A Jones agreement will make a bit of transactions history. No quarterback whose team passed on his fifth-year option — which the Giants did in May 2022 — has re-signed with that franchise. It is certainly looking like Jones will be back, and Schoen's comments point to the four-year quarterback starter being the potential tag candidate over the former Offensive Rookie of the Year.