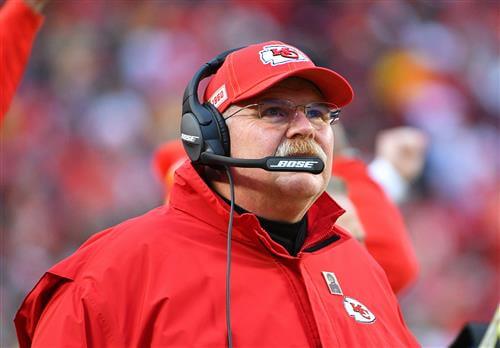 For Andy Reid, it looked as though history was again repeating itself in horrifying fashion on Sunday.
The 61-year-old is likely better known for his many playoff failures than for his immense career success in the regular season. Despite 10 division titles and a .618 winning percentage in 21 years as an NFL head coach, Reid entered these playoffs with a career postseason record of 12-14, no championships and only one Super Bowl appearance.
Since the 1970 AFL-NFL merger, only two coaches—Don Shula and Bill Belichick—have won more regular-season games than Reid, who is indisputably an offensive mastermind and a quarterback whisperer. And that legend has only grown in Kansas City, where he's posted the second-best record in the NFL since joining the franchise in 2013 following a 14-year run in charge of the Philadelphia Eagles.
But between 2009 in Philly and 2018 in K.C., Reid won just two of nine playoff games and lost four of five home postseason affairs.
And at 3 p.m. Central time Sunday, Reid's Chiefs—a double-digit favorite at kickoff—found themselves trailing the inferior Houston Texans 24-0 at home.
But Reid didn't flinch, and as a result, neither did his team.
"He can't just stand there and say, 'We got it, we got it,'" offensive tackle Mitchell Schwartz recalled, per ESPN.com's Tim Keown. "What he said was, 'You got to keep playing, and keep battling it out.'"
Fewer than 10 minutes after falling behind by three two-point-converted touchdowns, the Chiefs would come back to gain a 28-24 halftime lead. Thirty minutes later, they'd become just the second team in modern NFL history to win by 20 or more points after trailing by 20 or more points.
"It was about settling down and calming the storm," Reid said afterward, according to Keown. "No need to panic, just fix the problems."
There's no telling how Reid and his team might have reacted to that type of playoff adversity in the early-2000s (when the Eagles made four consecutive conference title games), in the mid-2010s (when the Chiefs were becoming a juggernaut but couldn't get it done in January) or even a year ago (when they blew a late fourth-quarter lead to the New England Patriots with a Super Bowl trip on the line).