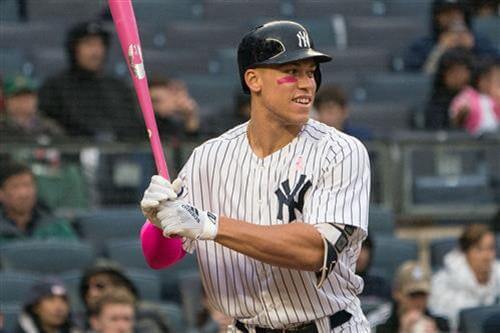 Don't look for Aaron Judge in the Home Run Derby during the All-Star break in July.
In March, the Yankees right fielder said he was leaning toward not defending the title he won a year ago. Tuesday, before the Yankees faced the Rangers at Globe Life Park, Judge told The Post he will skip the event.
"There is no need to do it,'' Judge said about defending his title, which he copped a year ago in Miami.
Until MLB received official word that Judge would be in the Derby last year, the league made it very clear Judge's participation would be a boost to the made-for-TV event.
So, what if MLB puts pressure on Judge, who commissioner Rob Manfred said at last year's All-Star Game could be the face of baseball?
"Pressure won't do anything,'' said Judge, who entered a deep funk after last July's event.
In 84 games before the Home Run Derby, Judge batted .329 with 30 homers, 66 RBIs and a 1.139 OPS. In the first 60 games after the break, Judge hit .195 (40-for-205) with 14 homers, 31 RBIs and a .797 OPS. He finished the season with an AL-leading 52 homers, 114 RBIs, an OPS of 1.049 and a .284 batting average.
In spring training, Judge was vague when asked if participating in the Derby played a role in him needing postseason surgery on his left (non-throwing) shoulder.