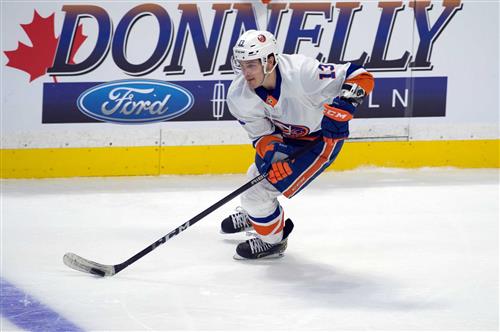 The core of the NHL's off-season seems to be through — the draft is in the books, the majority of the biggest unrestricted free agents have chosen their new threads, and the quiet of summer (winter?) is setting in.
But aside from business as usual, there's still one league-altering potential hanging overhead. While focus shifts from the UFAs to the RFAs — with every marquee name aside from Mike Hoffman already inked — so too comes the renewed intrigue of NHL offer sheets.
Long one of the most interesting tools at general managers' disposal, the question of whether or not any GM will be bold enough to roll the dice on an offer sheet has become an annual tradition. On one hand, it's rarely ever happened — though it has, with Shea Weber and Ryan O'Reilly signing offer sheets within the past decade and Sebastian Aho doing so just last year. On the other, the possibilities each off-season are too tantalizing to ignore.
There's particular interest this time around because of a tidbit dropped by former Kings assistant GM Michael Futa during his foray as part of Sportsnet's NHL Draft coverage earlier this month, one concerning the New Jersey Devils.
"I think they're another team that's primed for an offer sheet," Futa said during that early October broadcast. "And I can tell you that because I did not get the job as general manager there and it was a big part of the interview, talking about how much they wanted to give out an offer sheet."
So, is Devils GM Tom Fitzgerald on the clock to send an offer sheet in the direction of one of this year's elite RFAs? Let's take a look at what he or any other GM would have to have at his disposal to make it work.
How offer sheets work
First, a brief review of the process. A restricted free agent is eligible to receive an offer sheet if they have received a qualifying offer but have not signed (if they aren't qualified, they become a UFA), or are not going to arbitration (if they are going to arbitration, they must see that process through with their club, and will become a UFA if their team walks away from the arbitrator's decision).
A player who receives an offer sheet must make the decision to sign it to actually spur the process into action — if they do, their original team has seven days to match the offer or accept the opposing team's compensation (which varies depending on the average annual value of the offer sheet).
The haul required to be sent to the club whose player is being poached makes clear the stakes of going the offer-sheet route. That only one of the nine offered over the past two decades hasn't been matched by the player's team throws another wrench into the mix.
But the prospect of landing a player at the level of the top RFAs available at the moment, and the cap reality of some of the clubs housing talented RFAs means the potential for an offer sheet is certainly still on the table.
That said, let's dive into those options. We've divvied up the candidates into tiers, as while it's intriguing to imagine a marquee name potentially switch jersey colours, there's plenty of opportunity, too, for a team with extra cap space to go after a quality player on a club with little financial room to work, capitalizing on that discrepancy.
Tier I
Mathew Barzal, New York Islanders
While last year's class was chock full of superstars, this year's centres around one RFA who could have a franchise-altering impact on any club in the league. Barzal's coming off three straight 60-point efforts, his finest campaign seeing him amass 85 as a rookie, and his ceiling still seems far off in the distance. One of the most dynamic offensive minds in the game, with speed to rival Connor McDavid and elite hands to match, the sky's the limit for the 23-year-old centreman.
Watch one shift of Barzal's and his potential to get even better down the line is clear, and don't sleep on the fact he's excelled offensively in a defence-first system — and after watching his club's best player walk out the door after his rookie year.
In March, GM Lou Lamoriello said the Islanders intend to match any offer sheet that comes Barzal's way, and with the centreman likely to land near $9 million per year, it's a fair bet anything within that second-highest compensation bracket ($8.73 million to $10.91 million) wouldn't be enough to pry Barzal off of the Island.