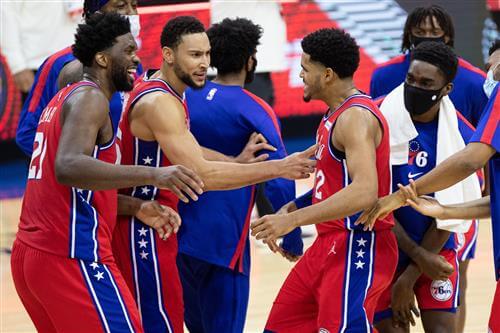 Tis the season for conversations around the NBA as general managers gauge who's available, fire up their trade machines, and see if a deal can be agreed upon to instantly enhace their roster before the trade deadline. While all indications are names like Bradley Beal, Zach LaVine, and Aaron Gordon won't get shipped, Andre Drummond is the most obvious trade candidate right now. Buyouts and the subsequent signings of big name players by contenders will likely represent the most notable transactions. Regardless, just about every team looking to make a run in the playoffs will consider an upgrade.
Some squads have more glaring needs right now compared to others—like the Jazz and Clippers who appear to be on cruise control, the Blazers expect a bunch of key players to return from injuries in due time, and the Nets are most likely sticking to the buyout market. So we decided to highlight eight teams—four in the East and four in the West—and what ails them as well as who precisely could provide a boost before the March 25 trade deadline. Enjoy the speculation.
Eastern Conference
76ers
Needs: More shooting, another wing defender, reliable guard off the bench
Duh, everybody needs more shooting. While the Sixers are the Eastern Conference's top squad (at least according to records) and feature a top 3 MVP candidate in Joel Embiid, they could definitely use another sharpshooter or two since they're a middling 3-point shooting team (17th at 36.2 percent from deep) and trail other contenders. And that's despite Seth Curry shooting lights out (47.9 percent) and Tobias Harris knocking them down at a career-high clip (42.7 percent). But when Embiid is your third-best 3-point shooter (39.7 percent), well...let's just say it ain't a bad thing, but we'd rather see him dominate down low. Plus, more shooters space things out for Embiid and Ben Simmons to do what they do best. As for Philly's defense, it got exposed against the Suns last weekend and they clearly could use another athletic wing player/reserve guard because it's going to be a herculean task trying to defend Brooklyn's three-headed monster when the finally faceoff.
Former Sixer and current Pelican JJ Redick is an obvious choice here to help with outside shooting. The Pelicans were rumored to have him on the trading block and if they appease Redick, who from all indications would prefer to land somewhere in the Northeast, the Sixers would likely welcome his return. Kings reserves Nemanja Bjelica, who has largely fallen out of Sacramento's rotation, is another name to keep an eye on. Recent rumors have linked Detroit's Delon Wright and OKC's George Hill as potential trade targets. Sacramento's Buddy Hield would be ultra-intriguing, but most likely too far-fetched.
Bucks
Needs: Perimeter defense
Milwaukee's a mess right now. Five straight losses after five straight double-digit wins have never been done before in NBA history and a 16-13 record is not what any of us expected from the Bucks. They get a slight pass since Mike Budenholzer has been experimenting with new sets and schemes. Which makes sense since Milwaukee was embarrassed the past two postseasons for refusing to make adjustments. That's a big reason why Giannis Antetokounmpo hasn't put up MVP-caliber numbers and the Bucks have been relatively beatable. While the offensive numbers have been robust (No. 3 offensive rating per 100 possessions), it's been the Bucks' inability to get stops that's most troubling, like we saw—again—Thursday night against the Raptors who smoked the Bucks. Milwaukee's defensive rating so far this season is 111.86 per 100 possessions, in stark contract to last season's NBA-leading mark of 103.36. The Bucks rank 25th in opponents' 3-point field goal percentage, 26th in opponents' 3-point attempts allowed, and 20th in opponents' points per game,. What the hell happened to the Bucks?
Milwaukee needs another defender who can handle himself on the perimeter. Preferably a 3-and-D guy who can add an element of danger from beyond on the arc on the opposite end of the court. Hield, who plays a little bit of defense, would be a home run. But acquiring him seems improbable. Plus, why would Milwaukee deal with Sacramento again after the offseason debacle that was the Bogdan Bogdanovic sign-and-trade fiasco? Hill, who played 106 games with Milwaukee over the past two seasons and currently averaging 11.8 PPG and hitting 38.6 percent of his 3-pointers with the Thunder, isn't sexy, but he's sensible.