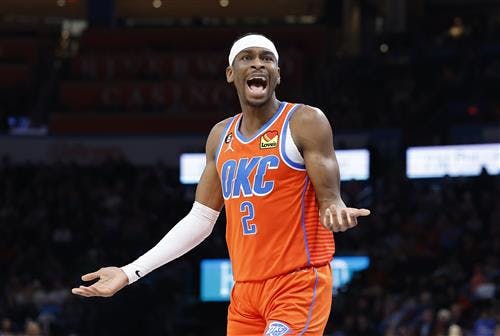 The 2023 NBA season is winding down, and we have an idea of which teams have separated themselves from the others in the league. We also know the best players in the league and the talent they are currently playing with. Of course, the NBA has become a league where star players need to be surrounded by tons of talent, and that is why general managers are always looking to make deals and improve rosters. In fact, there are eight NBA players who are most likely to be moved after this season.
In a league of players that not only encourages movement but values it the most, the rosters of NBA teams could look very different in just a few months when summer is here. The summer of 2023 is shaping up to be one of the most exciting in recent memory, as we could be seeing a host of star players leaving their teams to join new destinations. There are eight star players that could be on the way out, and it could all happen this summer when the 2022-23 season is finally over. Here are the top NBA players who will most likely request a trade this summer to reshape the NBA next season.
Zach LaVine
Athletic guard Zach LaVine has come into his own over the last few seasons. He's averaging 25.1 PPG and still possesses an elite jumper that he can pull off with efficiency (48.4% FG, 38.5% 3-PT FG, and 85.0% FT). LaVine has made two All-Star Teams already but missed out on making another one this season. LaVine could be slowly showing signs of becoming frustrated in Chicago, especially with the Bulls' struggles for most of the season.
The best possible destination for LaVine is New York, where the young man can compete at an elite level for a massive market with the Knicks. The Knicks need a star player to pair with All-Star Julius Randle and budding All-Star Jalen Brunson. If the reports are true that LaVine's camp is pushing for a move to New York, there could be a massive change in how the East looks next year.
Pascal Siakam
Pascal Siakam is among the most valuable players in the trade market because he is only 28 years old with a ton of experience in the playoffs already. He can score inside, shoot the ball, and play solid defense in the post. Siakam was an All-Star this season and has a lot left in the tank as a two-way star who can compete for a winning side. Unfortunately, Toronto is likely out of the mix in the East, and a player of Siakam's ability belongs on a team with other stars.
The Cameroonian can do it all as a power forward, including defending multiple positions and running the floor, so he could be fed up with a losing situation and demand a trade to a contender. Siakam is averaging 24.2 PPG, 7.8 RPG, and 5.9 APG, and since the team is not winning, it is no surprise that the Raptors have had talks with other teams involving their best player. If the Raptors can get a return of young players and first-round picks, Pascal Siakam could be the next player to leave.
Bradley Beal
Bradley Beal has developed into an elite offensive player over the past few years. His career-high in scoring in the 2020-21 season had placed Beal on the radar for many top NBA teams, and a player like Beal can transform a team's offense singlehandedly. Even with a ton of roster changes over the years, the Washington Wizards will not be a contender, and everyone with eyes can see that.