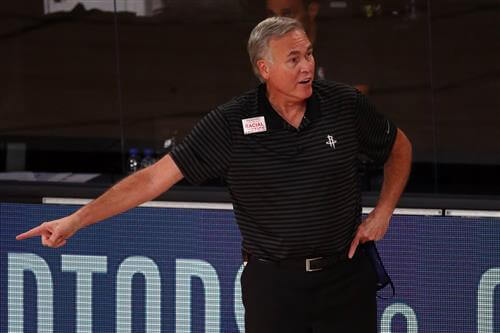 The Philadelphia 76ers could be looking to bring a familiar face back to the sideline. The Sixers parted ways with coach Brett Brown after the team was swept in the first round of the postseason by the rival Boston Celtics, and they are eyeing former Houston Rockets coach Mike D'Antoni as Brown's potential replacement, according to Keith Pompey of The Philadelphia Inquirer.
D'Antoni coached the Rockets for four seasons, but he was ultimately unable to lead the team to the NBA Finals, and the two sides parted ways after the Rockets were eliminated in the second round by the Los Angeles Lakers earlier this month. D'Antoni served as an assistant under Brown during the 2015-16 season before taking the Rockets' head coach job.
Here's more from Pompey:
A league source said the job could be D'Antoni's to lose. The source said the 69-year-old would have to bomb his interview with the Sixers owners not to be offered the job, and said D'Antoni is the candidate they want.
If D'Antoni is ultimately hired, the Sixers will be open to making trades in order to fit his preferred style of play, according to Pompey. Additionally, Sixers All-Star center Joel Embiid "gave his blessing" on the hire. Embiid is reportedly open to the idea of spending more time around the perimeter in D'Antoni's spaced-out system.