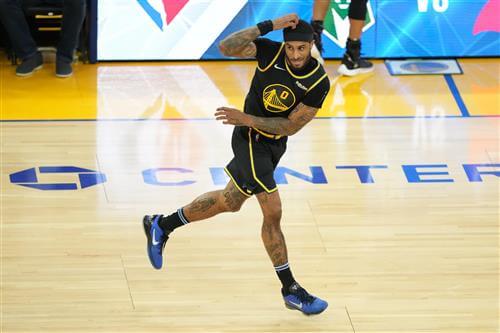 So many people have bemoaned the lack of star power entering 2022 free agency that it's easy to overlook just how many great under-the-radar finds are staring us right in the face.
At long last, we now have this space to acknowledge some of them.
Handing out "underrated" labels remains an inexact science. Should they be given to effective players toiling away in relative obscurity? Entrenched glue guys who deserve more attention? Fresh faces who recently burst on to the scene in a way that implies staying power? Familiar faces who fell from grace and have quietly fought their way back from implosion?
Yes, yes, yes and yes.
Celebrating those who continue to go largely uncelebrated is the mission. And, fortunately, we've got noisemakers at the ready.
Chris Boucher, Toronto Raptors
Floor-spacing shot-blockers are supposed to be all the rage on the frontline. So, like, why isn't Chris Boucher's impending free agency creating more buzz?
Perhaps it's because he wrapped the regular season shooting under 30 percent from three. That's fair. And a little misleading. Boucher canned 46 percent of his corner triples outside garbage time compared to just 22 percent of his above-the-break looks, per Cleaning the Glass. The latter clip needs to come up, but he remains a threat from the outside and, therefore, someone who can play in tandem with another big.
Boucher has also added more dimensions to the way he goes about his business on the more glamorous side of things. He can occasionally put the ball on the floor and exploit over-aggressive closeouts, and though he's not a conventional rim-runner off screens, he has become a whiz at slipping behind defenses from the corner.
Giving him criticism for undisciplined defense used to be fair. It isn't anymore. He cut down his per-minute foul rate this season, per Basketball Reference, in no small part because he honed the trajectory of his own perimeter closeouts—an adjustment that did little, if anything, to impact his frenetic attempts to swat jumpers. Only two players blocked more three-pointers this year, according to PBP Stats.
Smarter closeouts and a solid presence around the rim are enough to drum up Boucher's defensive intrigue. He pushes the bill further with effective laterality. He can stick on smalls going downhill without falling behind the play or fouling and will send back shots while still moving east-west. If the Toronto Raptors aren't going to pony up to keep him, another team should.
Amir Coffey, L.A. Clippers
Amir Coffey may still be relatively unknown even after helping the L.A. Clippers navigate a season checkered by absences galore. But while his initial opportunity was borne out of necessity, he closed the year with real staying power, a rotation staple whose impact can scale to different situations.
After becoming an everyday player right around Christmas, Coffey averaged 11.0 points and 2.2 assists on 55.2 percent shooting inside the arc and a 38.6 percent clip from downtown. The Clippers had him do everything from spotlighting on pick-and-rolls to attacking switches, and he did not look overextended.
His feel in the half-court is palpable. He has the speed to get by defenders on straight-line attacks and the strength to knock down in-between attempts after light contact. Pull-up shooting is not a functional crutch, but he can dribble into mid-range opportunities against drop coverage. He put in a combined 62.2 percent of his running layups and jumpers on the year (28-of-45), per NBA.com.
Suitors should be comparably interested in Coffey's defensive malleability. At 6'7", he can match up with positions 1 through 4—all while keeping his fouls to a minimum, if this season is any indication.
Restricted free agency can be prohibitive for outside teams who don't want to tie up spending power in players they may not wind up signing. Coffey's situation is more inviting. As a non-Bird restricted free agent, the first-year salary on his next deal cannot exceed the non-taxpayer's mid-level exception—a tool the Clippers don't project to have, rendering Coffey eminently gettable.