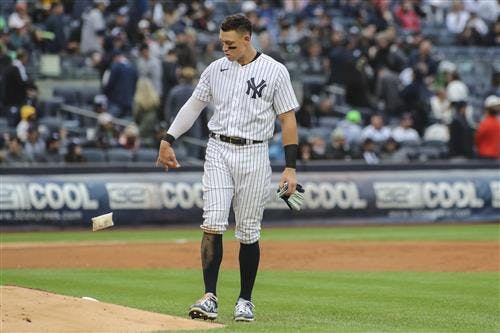 It's the most wonderful time of the year.
No, we're not talking about the holiday season -- though that's pretty great, too -- but rather baseball's Winter Meetings, which are underway following a two-year hiatus for the offseason's marquee event.
Executives and agents alike began laying the groundwork for potential deals last month at the General Managers Meetings in Las Vegas, but the entire baseball world has descended upon the Manchester Grand Hyatt in downtown San Diego with the goal of closing deals as all 30 clubs look toward the 2023 season.
What will we be talking about all week? Here are seven storylines to watch.
99 problems
If there's anybody in the baseball world who doesn't have any problems this winter, it's Aaron Judge. The reigning American League Most Valuable Player is looking at a titanic payday, though the $300 million question is which team will be writing the checks?
The Yankees -- whose most recent offer to Judge was for eight years and nearly $300 million -- remain the favorites to retain the slugger, though the Giants are still contenders to land Judge. Aside from those two clubs, the Dodgers are a team to watch, while the popular "mystery team" is always a possible twist to this saga.
Many industry insiders believe Judge will sign during the Winter Meetings, which would open up the free-agent market for some of the other top players.
Pulling out all the (short)stops
For the second consecutive offseason, the shortstop market is robust with superstar talent. Trea Turner, Carlos Correa (who was a free agent last year, too), Xander Bogaerts and Dansby Swanson are all available, though far more than four clubs are in the mix to sign one of the All-Stars.
Turner has been connected to the Phillies for weeks, while the Twins are hopeful to bring Correa back on a new long-term deal. The markets for Bogaerts and Swanson appear to be broad, though new suitors could emerge based on other signings.
It would be surprising if at least one of the shortstops didn't sign during the Winter Meetings, and once the first domino falls, the others could follow suit quickly.