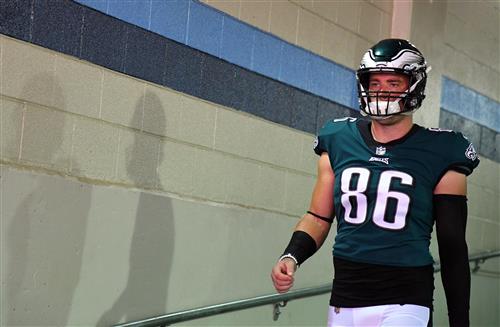 Tuesday marks a very important date for Zach Ertz and the Eagles.
After 4 p.m. on June 1, the Eagles can recoup $8.5 million in cap space by trading or releasing Ertz, who is looking for a change of scenery. The three-time Pro Bowl tight end and the organization have publicly and privately disagreed on his value in contract talks, and divorce seems inevitable at this point.
Read More- Seahawks discussing Julio Jones trade with Falcons
Ertz was among the few players to no-show the Eagles' first offseason program under new head coach Nick Sirianni. With former second-round pick Dallas Goedert ready to take over for Ertz, the Eagles are in strong enough shape to move on from Ertz, who has been on the trade block since around last year's trade deadline.
The issue to this point has been about return value in a trade. The Eagles didn't find what they were looking for during the draft weekend, so the next logical step was to hold onto Ertz until June when their cap savings would boom from $4.9 million to $8.5 million due to the ability to mitigate dead money charges with the use of next year's cap.
While teams have upgraded their tight end depth charts around the league this offseason, Ertz should still have several suitors if he were to be outright released, a gesture by the Eagles that could be seen as an "atta boy" for franchise cornerstone and Super Bowl LII hero. If the Eagles decide that a trade is the only way to let Ertz go, they might need to take a player or a conditional draft pick in return.
Here are seven suitors who make sense for Ertz entering the summer:
(All salary cap total via NFLPA's cap report)
UPDATED (Tuesday, 8:45 a.m.): The Buffalo Bills restructured wide receiver Stefon Diggs' contract on Tuesday, freeing up roughly $7.8 million in cap space, according to ESPN's Field Yates. That's some interesting timing, so we'll add them to the list.
Buffalo Bills
Cap Space: $3.62 million (plus a reported $7.81 million in additional space from Diggs restructure)
How? Trade (or free agency after release)
Why: The Bills and Ertz have seemed like a match for months. The Bills are going all-in with Josh Allen still on his rookie contract, and Ertz would provide a massive upgrade at tight end. Surrounded by weapons, Ertz could boost his stock for next offseason by being a key cog in the Bills' offense. The Eagles could look to get a Day 3 pick from Buffalo. The Diggs restructure is very interesting.