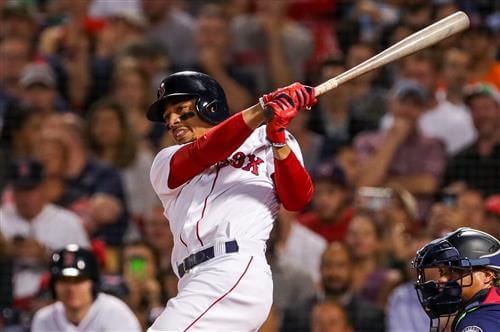 Among the more interesting subplots of the upcoming offseason, aside from "who will sign Anthony Rendon and Gerrit Cole," and "what will Yankees fans do if their team doesn't sign Anthony Rendon or Gerrit Cole," is what's happening -- or about to happen -- in Boston.
Will J.D. Martinez opt out? Will Mookie Betts get traded? And what will the impact of new "chief baseball officer" Chaim Bloom, who is set to be introduced on Monday afternoon, be in all of this?
It's the second one of those questions, the idea of trading Betts, that stands out the most. He's 27 years old, he's a World Series champion, a three-time Gold Glove Award winner, a Most Valuable Player Award winner and it was just one year ago that he was finishing up one of the most historically great seasons in Red Sox history.
Over the last four years, the Wins Above Replacement leaderboards look like this:
34.9 WAR -- Mike Trout
30.7 WAR -- Mookie Betts
25.4 WAR -- Christian Yelich
24.2 WAR -- Anthony Rendon
23.2 WAR -- Francisco Lindor
These kinds of players simply don't appear on the market very often, because when teams have them, they tend to keep them. (This is obviously the best outcome for Red Sox fans: That Bloom and friends do, in fact, keep him.) When one does, every team in baseball ought to stand up and take notice, to the point that this article could and should look like this:
"A list of teams who should be interested in Mookie Betts:
All 29 other teams should be interested in Mookie Betts."
Right. That.
But OK, that's not really going to happen. The Red Sox would never trade him to the Yankees, for one, and since he's got only a single year remaining before he's a free agent, a handful of teams that aren't likely to contend in 2020 wouldn't make the effort to get him. A few other teams that probably would like him may not have the prospects to do it, or may have larger needs to fill than in the outfield.