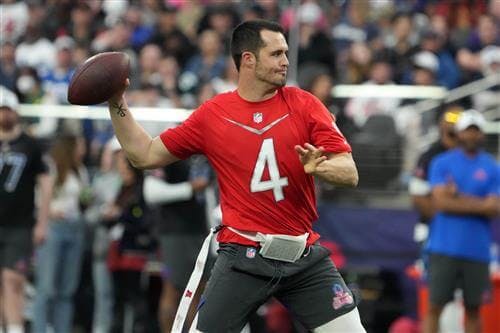 Derek Carr's days as the Raiders' quarterback are quickly dwindling. That's what both he and the team have indicated ever since the veteran's abrupt demotion at the end of the 2022 NFL season. A trade may be unlikely since the Raiders are reportedly requiring suitors to agree to terms of a deal before granting Carr permission to communicate with said teams. But in that case, an outright release will surely follow, with Carr repeatedly teasing his exit from Las Vegas ahead of free agency.
Nearly a decade into his career, and just a year removed from another lucrative contract extension, Carr claims he "just wants to win" on his next team. So where, exactly, is the best landing spot for the QB? We know at least several clubs will inquire, but from Carr's perspective, what's the ideal fit? Here's how we'd sort it:
Non-fits
Colts
Forever in need of a QB, the Colts have far too much leadership uncertainty to warrant Carr's interest, even in an open division. Jonathan Taylor and Michael Pittman are nice weapons, but behind an increasingly iffy O-line, who'd be rushing to follow in the footsteps of the battered veteran QBs they've courted since Andrew Luck's departure?
Texans
We genuinely believe Carr likes the idea of picking up where his brother left off. He even said previously that he wished the Texans would've drafted him in 2014. DeMeco Ryans' addition as head coach certainly helps. But they're too clearly in rebuild mode for any kind of title-chasing.

Titans
Before they axed offensive coordinator Todd Downing, an old friend, they might've made sense as a cheaper, younger replacement for Ryan Tannehill. But like the Colts, even their open division doesn't fully offset the fact this team -- also challenged in terms of receiver depth -- is better suited for longer-term investments.