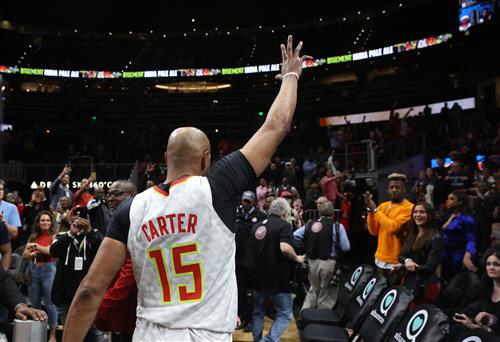 The NBA finished its multi-day unveiling of the 75th Anniversary Team on Thursday - and even with a super-sized field of 76 players, the league still couldn't find room to recognize some of its all-time greats.
Here are the six biggest snubs.
Dwight Howard
Howard is a three-time Defensive Player of the Year with eight All-NBA selections - including five first-team nods - to his credit; the 33 other players with at least eight All-NBA selections each made the cut.
It's not like Howard was merely a good player in a soft era, either. While starring with the Orlando Magic from 2004-12, he routinely went up against some of the most talented bigs in NBA history - Tim Duncan, Kevin Garnett, (post-prime) Shaquille O'Neal, Dirk Nowitzki, Yao Ming, Amar'e Stoudemire, and Chris Bosh. He propelled a modest Magic squad to the 2009 Finals with Jameer Nelson and Rashard Lewis as his chief running mates.
While Howard's prodigious athleticism has certainly eroded, the main thing blocking the generational center from his place in NBA immortality is his proclivity for toxicity - most locker rooms in recent years haven't been disappointed to see him go.
Vince Carter
Carter is among the league's most impactful players of the last 20 years. He raised the ceiling for what the basketball world thought was possible above the rim while helping popularize the game north of the border. Carter's aerial supremacy and star power put the expansion Toronto Raptors on the map, most notably through the unforgettable 2000 Slam Dunk Contest. It's no surprise a generation of Canadian NBAers cite Vinsanity as their biggest role model.
Carter's productivity and longevity also deserve recognition. The 1998-99 Rookie of the Year and eight-time All-Star became the only NBA player to play in four different decades - the 1990s, 2000s, 2010s, and 2020s. Carter's statistics during his prime were impressive, too, as he averaged 23.5 points, 5.5 rebounds, 4.3 assists, and 1.2 steals in 11 seasons with the Raptors and then-New Jersey Nets.