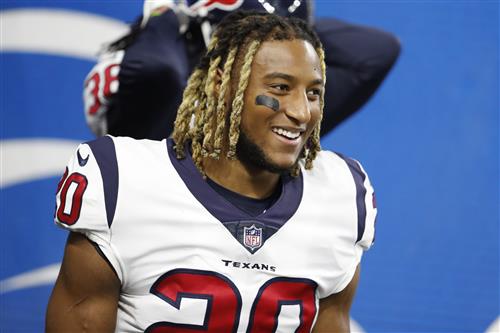 The NFL is where the absurd often becomes reality.
Fans don't even need to look that far back for proof, either. In late September, a dramatically rebuilding Jacksonville team traded 2020 first-round pick CJ Henderson to Carolina in exchange for a third-round pick and tight end Dan Arnold. And earlier this month, New England traded Pro Bowl corner Stephon Gilmore to Carolina for a 2023 sixth-round pick.
Had either of those deals and trade packages been floated as possibilities before happening, fans likely would have hit them with an "unrealistic" or "absurd" tag.
Yet the NFL has a way of making absurd happen, and that's bound to be true again ahead of this year's Nov. 2 trade deadline. Here are a handful of absurd-looking trades that make sense for the teams involved based on need, future trajectory and financial reasons.
Texans Send Justin Reid to the Chiefs
Don't put it past the Houston Texans to make another ridiculous trade in the DeAndre Hopkins vein.
At least with safety Justin Reid it makes some sense. Reid, a 2018 third-round pick who had excellent production in his first three seasons, has posted a middling 73.1 Pro Football Focus grade (placing him in the low end of the "starter" category) over four games in a contract year.
As perhaps the best defender in Houston, he's free to demand top dollar, which could mean the Texans have to cough up roughly $15 million or more in average annual salary to keep him, either on a new deal or on a tag.
Or, Houston could realize the predicament and ship Reid to a contender like Kansas City in exchange for something like a second-round pick, guaranteeing the franchise doesn't lose him for nothing in free agency.
And for the Chiefs and Reid, it might bring out even better play while he works alongside Tyrann Mathieu, so everybody wins.
Bears Send Allen Robinson II to Packers
Let's get really absurd with some intradivision trading between winning teams.
The relationship between the Chicago Bears and wide receiver Allen Robinson II has seemed spoiled for more than a year now as the two sides haven't been able to agree on an extension. He accepted the franchise tag over the offseason, but through five games he has just 29 targets, two fewer than that of Darnell Mooney.
That's a disservice to Robinson, owner of three 1,100-yard seasons, who has never played with a great quarterback and won't get that chance this year as rookie Justin Fields learns under center.