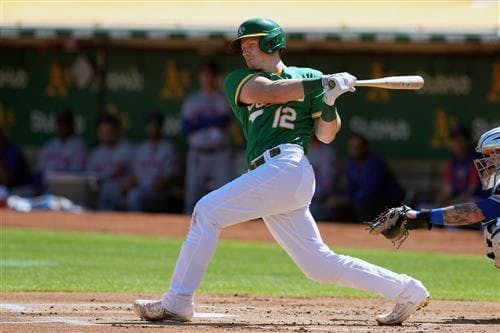 Major League Baseball's winter meetings are around the corner. When executives for all 30 teams get together in one location, a transaction isn't far behind.
Here are five deals - including some implausible ones - that we're hoping get hatched.
Ohtani moves from Anaheim to Hollywood
Dodgers receive: P/DH Shohei Ohtani
Angels receive: 2B Gavin Lux, P Michael Grove, P Bobby Miller, 2B/OF Michael Busch, OF Andy Pages, and P Landon Knack
The Angels already said they wouldn't trade Ohtani, and their early-offseason investment into their club certainly supports that. However, we want to see this trade, and the Dodgers are perhaps the only team that could pull off a blockbuster of this caliber. They have the farm system, the desire to win now, and the means to immediately extend the pending free agent.
Adding Lux makes sense for a Halos infield that will see some changes with the addition of Gio Urshela. Relegating Luis Rengifo and David Fletcher to more part-time roles makes them a much deeper squad to hopefully win now.
The deal also bolsters the Angels' farm system with a bunch of near-MLB-ready talent. Grove didn't look especially sharp in his big-league debut campaign in 2022, but he's shown elite strikeout stuff in the minors. Miller could probably use a bit more seasoning. However, the 23-year-old is certainly on the cusp of helping an MLB club and will likely be significantly more polished than Grove was when he got the call.
Busch and Pages - the hitters in the package - are a bit of wild cards. Neither excels at making contact, but they make up for whiffs with prodigious power. Knack is no slouch, either. While the 25-year-old has progressed in the minors as a starter, his future in the majors might be as a reliever. He could help the Angels much sooner in that role.
Losing Ohtani would sting. And this deal likely makes them slightly worse for the 2023 season. But it's better than losing the two-way superstar to free agency next winter for nothing, and this package conceivably keeps the Angels relevant for longer. Not to mention, the likelihood of the Angels extending Ohtani seems slim given what they already have on the books with Trout and Anthony Rendon. Plus, owner Arte Moreno is looking to sell the team.