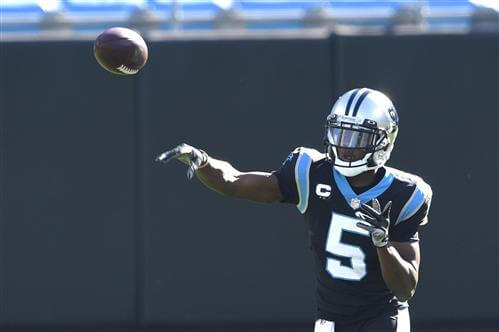 As the NFL draft nears, there's no shortage of speculation about potential trades on draft day. More than a few teams are looking to make a push up the board to grab a young prospect they covet. Others are interested in dropping back and adding picks.
We've already seen a fair amount of movement in that regard. The San Francisco 49ers paid a huge price to move up to the third overall pick, ostensibly to draft a successor to Jimmy Garoppolo at quarterback. The Miami Dolphins moved from No. 3 to No. 12 and then back up to No. 6 in a deal with the Philadelphia Eagles.
There have also been several trades involving players. Four quarterbacks who started games in 2020 have switched uniforms, beginning with the trade that sent Matthew Stafford to Los Angeles and landed Jared Goff in Detroit. The Las Vegas Raiders dealt away three starters along the offensive line.
Some of those deals bordered on larceny. Some appear to have been ill-advised. And some could be viewed as a "win" for both sides.
It's that last category we're going to focus on. There will no doubt be a number of trades between now and the end of the draft on May 1. The potential deals listed here involve everything from another starting quarterback to a Defensive Player of the Year and a couple of picks in the top five.
And all have appeal for both buyer and seller.
Teddy Bridgewater to Denver Broncos
The Carolina Panthers have been one of the more active teams in free agency, and the highlight of all that moving and shaking was the trade with the New York Jets that brought young quarterback Sam Darnold to Charlotte.
The flip side of that deal is that after one mediocre season with the team, it's clear that Teddy Bridgewater is no longer in the team's plans. As Ian Rapoport of NFL Network reported, the Panthers are "open" to Bridgewater returning in 2021, but the team has given the 28-year-old (and his $23 million cap hit) permission to seek a trade.
Enter the Denver Broncos.
Bridgewater admittedly struggled in 2020, throwing just 15 touchdown passes and going 4-11 as the starter for the Panthers. But Broncos starter Drew Lock was even worse—whether it was completion percentage, passing yards per game, interception percentage or passer rating, you would be hard-pressed to find a statistical category where Bridgewater didn't post better numbers.
Lock's miserable second season led Denver to be a popular landing spot for one of this year's top quarterback prospects with the ninth overall pick. But even that has become a potential issue for the team. After the Jets traded Darnold and the San Francisco 49ers mortgaged their future to move up to No. 3 overall, there is zero doubt the first three picks in 2021 will all be quarterbacks. Some mock drafts have gone so far as to forecast that five signal-callers could be off the board before the Broncos are even on the clock.
It puts the Broncos in a tough spot as far as grabbing a rookie QB is concerned. But with the second-most cap space in the league, per Over The Cap, Denver has the financial wiggle room to swing a deal for Bridgewater, who would likely welcome a move to one of the few teams for which he'd have a legitimate chance to start.
The cost for the Broncos in terms of draft picks would be minimal: A Day 3 pick would likely get it done. Even if Denver didn't restructure Bridgewater's deal (which it would), his contract contains an "out" of sorts after this season.
It's not an ideal plan under center in the Mile High City. But given how things have unfolded this offseason, it's the best Denver's got.
Atlanta Falcons Trade Down in 2021 Draft
The Denver Broncos aren't the only team that is feeling the sting from this year's quarterback frenzy.
Fresh off a 4-12 season that cost both head coach Dan Quinn and general manager Thomas Dimitroff their jobs, there has been no shortage of speculation that Atlanta could look to draft a successor to Matt Ryan with the fourth overall pick. ESPN's Chris Mortensen recently reported (via Evan Birchfield of the Falcoholic) that new Atlanta GM Terry Fontenot wants to take a signal-caller in that spot.
"What I'm hearing is that [Terry] Fontenot is more focused on quarterback, and Arthur Smith believes that Matt Ryan does have two or more years left," Mortensen said. "He has no real medical history, he hasn't missed many games in his career and there hasn't been a big drop off in his play."
In just about any other draft, the team would be in a great position to do so.
But this is 2021. Trevor Lawrence is going first overall to the Jacksonville Jaguars. The New York Jets traded Sam Darnold and are certainly taking a quarterback at No. 2. Ditto for the San Francisco 49ers, who didn't trade three first-rounders to take a wide receiver.
That means the Falcons can either be the fourth team to hit the QB well on April 29 or they can flip that pick to a team that's even more desperate for help at the position.
The Falcons have more than one problem, but the reality is that quarterback isn't especially high on that list. Yes, Matt Ryan is 35. And he has a hefty salary. But he's hardly ancient by quarterback standards, and there's a reason he makes the money he does. It's not like Ryan's level of play has free-fallen or something—he completed 65 percent of his passes last year for over 4,500 yards and had over twice as many touchdown passes as interceptions.
According to Mortensen, new head coach Arthur Smith believes Ryan has at least two quality years left. That's not a reach.
Swinging a deal with a team like Denver or the Detroit Lions would keep the Falcons in the top 10 (where Atlanta could still get a desperately needed edge-rusher or cornerback) while adding additional picks to the team's draft arsenal. Move back even further in a deal with a team like the New England Patriots, and Atlanta could gain an additional first-rounder.
Adding draft capital to fix the issues the Falcons do have makes more sense than addressing a "problem" they don't.