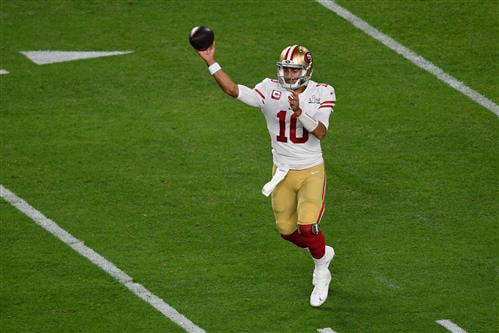 Will the San Francisco 49ers trade Jimmy Garoppolo? It's the million-dollar question in the Bay Area with NFL free agency slated to start here soon.
Recent reports suggest that San Francisco will only move Garoppolo if the team can acquire Deshaun Watson. While that might very well be true, there's other options for general manager John Lynch and Co.
As for Garoppolo, there wouldn't be a limited number of teams interested in acquiring a quarterback who is just over a year removed from starting in the Super Bowl. Here's a look five teams who are a perfect for for Jimmy Garoppolo.
Jimmy Garoppolo to the New York Jets
Jets Jimmy Garoppolo trade package: Third-round pick in 2021 conditional 2022 mid-round pick
Let's be clear here for a second. The Jets are either going to trot out a rookie quarterback in 2021 or will be looking for a veteran to replace Sam Darnold. Despite suggestions that general manager Joe Douglas and new head coach Robert Saleh are still evaluating their options, the former No. 3 pick is as good as gone. Neither Douglas nor Saleh have a built-in relationship with the former No. 3 pick.
Sure Darnold heading to the 49ers in a Jimmy Garoppolo trade could make sense. Head coach Kyle Shanahan still loves the former USC standout. However, this scenario includes San Francisco either pulling off a separate Deshaun Watson blockbuster or going with a stopgap option like Ryan Fitzpatrick under center in 2021.
As for the Jets, there's a few reasons to believe that they would value Garoppolo as a stopgap option with a rookie sitting behind him for a year or two. Perhaps, BYU's Zach Wilson. Not only does Saleh have a relationship with Garoppolo dating back to their days with San Francisco, new Jets offensive coordinator Mike LaFleur worked with him in the Bay Area. His offense is going to be a carbon copy of what Shanahan runs in San Francisco.
Jimmy Garoppolo to the Denver Broncos
Broncos Jimmy Garoppolo trade package: Drew Lock and conditional 2022 late-round pick
If it were up to Broncos president John Elway, Garoppolo might already be a member of the Broncos. We already know that Elway loves himself prototypical quarterbacks. Alas, it's not to be after Elway gave up general manager duties when he hired George Paton away from the Minnesota Vikings.