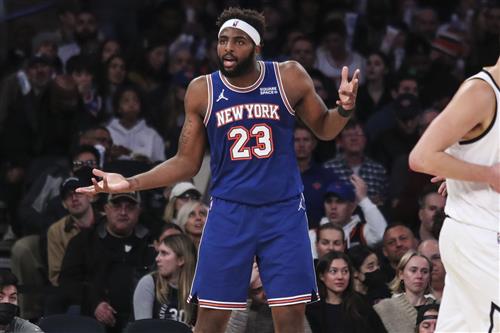 There's not exactly a good time to lose your All-NBA big man, but the Los Angeles Lakers really couldn't have asked for worse timing on Anthony Davis' latest injury. The NBA's recent COVID-19 outbreak has desperate teams nabbing every worthwhile free agent, so it's not as though the Lakers can easily look to the free-agent pool to find a replacement center while Davis recovers for the next month or so. Their own internal options aren't particularly appealing either. DeAndre Jordan lost his spot in the rotation for good reason before desperation got him minutes back. Dwight Howard is currently out due to the NBA's health and safety protocols. Two-way rookie Jay Huff has played just 13 minutes this season.
The one saving grace for the Lakers is the date on the calendar. With Dec. 15 now in the rearview mirror, the majority of NBA players are now trade-eligible. The Lakers have neither the assets nor the matching salary to swing a blockbuster for a new big man, but beggars can't be choosers. A reliable 15 minutes per night in the frontcourt would be enormously valuable right now. So let's explore what's realistically out there on the trade market right now for a package of second-round picks and minimal matching salary (let's say no more than two minimum-salaried Lakers going out, which would allow the Lakers to absorb around $4.3 million in salary). Given the COVID situation that the entire league is facing right now, teams very well might decide to hoard their players and eschew trades entirely until they can more comfortably rely on their players to be available. The Lakers might just be out of luck if that's the case, but these five players at least make a modicum of sense as hypothetical trade targets.
1. Mitchell Robinson
Here's the pie in the sky target. Mitchell Robinson is absolutely overqualified for injury-replacement trade target status, and the New York Knicks almost certainly wouldn't take a package of second-round picks back for him even considering his underwhelming season. Even if they would, it's worth noting that Robinson recently fired Rich Paul as his agent, so whatever influence Klutch Sports holds in the front office would likely be used against him, and he's having arguably his worst season as a pro after gaining 20 pounds in the offseason.
2. Damian Jones
Here's where the more realistic targets come into play. The Lakers had Damian Jones in the building briefly last season, but let him go to make way for Andre Drummond on the buyout market. They almost immediately regretted that decision. Drummond underwhelmed. His presence alienated Marc Gasol. Jones thrived in an expanded role in Sacramento. That role has since shrunk, though. He's appeared in only 14 games for the Kings this season, and the Kings have a surprisingly crowded frontcourt now that Tristan Thompson is in town and Marvin Bagley III has re-emerged as a rotation player. The Kings are so bogged down by the COVID protocols that they're likely at least a week away from even considering a deal, but if they aren't going to use Jones, grabbing a draft pick for him makes plenty of sense.