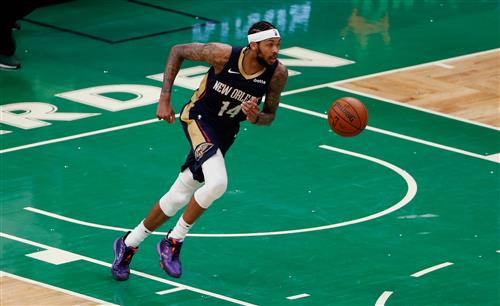 The Golden State Warriors are currently the 10th seed in the Western Conference, and it is clear that the offense needs some pieces that fit well with Steve Kerr's motion offense. Steve Kerr's system is based on having a lot of ball movement and spreading the floor with good shooters. The Warriors' system requires players who are willing to keep moving off the ball, while also being able to make the right pass to find the open man.
The Golden State Warriors need very specific players that can fit their style of play. There are a few players whose skills would be a great fit with the Warriors trio of Stephen Curry, Klay Thompson, and Draymond Green. The Warriors have talent on paper right now: but the pieces don't necessarily fit together as a greater whole.
This list consists of superstars that would immediately help the Warriors, and assimilate seamlessly with their system. A trade isn't necessarily possible for all of the players included. Some of these superstars are probably untouchable in trade talks. But it is interesting to think about how some players would work with an already existing core in Golden State, and how insane. Here are some of the possible superstars that would be a perfect fit with the Golden State Warriors.
5. Kristaps Porzingis
Kristaps Porzingis is one of the best perimeter-scoring big men in the league. The Latvian center is currently averaging 36.9% from 3PT range while shooting 6.3 attempts a game. Kristaps Porzingis could fix some of the Warriors' spacing problems from this season, while also providing a center who can score. Kristaps Porzingis's ability to score from multiple places on the court would make him able to capitalize off of Stephen Curry's gravity, as well as giving Draymond Green an elite scorer to make use of his playmaking.
Kristaps Porzingis is a player that could realistically be acquired via trade. There were rumors that the Dallas Mavericks have already contacted Golden State about Kristaps Porzingis, and that a potential trade could send Kristaps Porzingis away for Andrew Wiggins. Obviously, there could potentially be other pieces that are involved in this trade, such as young forward Eric Paschall, or even rookie James Wiseman. Kristaps Porzingis' skillset and ability to play off the ball would make him a great fit on the Golden State Warriors.
4. Karl-Anthony Towns
Karl-Anthony Towns has elite shooting prowess for a center, and could quite possibly be the best stretch center in the league. Towns is currently putting up 6.2 3PT shots a game while averaging a blistering 39.0% on those attempts. Karl-Anthony Towns is also an amazing player on the interior and can score in the post on offense and protect the rim on defense. Towns' most underrated skill is his passing: he averages 4.6 APG because he is often the focus of the opposing defense, which leads to his teammates getting easier shots. Playing with shooters who can actually punish the heavy defensive coverage Towns faces could potentially push him to another level, which means Golden State could be the perfect destination.