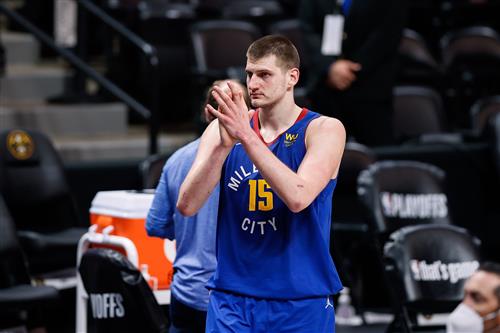 The Denver Nuggets were swept in the second round by the Phoenix Suns even with Nikola Jokic's heroic performances. There is no doubt that the MVP needs some more offensive firepower on the roster, especially considering the fact that Jamal Murray will be out with injury for a very long time, as ACL injuries generally take around a year to fully recover from.
Read More - Blockbuster NBA Trade Ideas to Create the Next Superteams
Even though the Denver Nuggets have a solid core, championships are won with star power. The Denver Nuggets could potentially make a move to get Nikola Jokic another star player and potentially build a championship level core. Here are five stars that would increase Nikola Jokic and the Nuggets' chances of winning a championship.
5. Jimmy Butler
Denver Nuggets Receive: Jimmy Butler
Miami Heat Receive: Aaron Gordon, Monte Morris, Bol Bol, a future first-round pick, a future second-round pick
While Jimmy Butler didn't have the best playoff series against the Milwaukee Bucks in the first round, he still made the All-Star game last season, and the All-Defensive team this season. His numbers were fairly solid across the board in 2020-21 too: 21.5 PPG, 7.1 RPG, and 6.9 APG, as well as a career-high 2.1 SPG. He would be a solid ballhandler next to Jamal Murray and would take some of the playmaking burden off of Nikola Jokic.
The Miami Heat are a team at a crossroads, and perhaps trading Jimmy Butler for some younger players would allow them to rebuild around Bam Adebayo and Tyler Herro. This move would also give Jimmy Butler an opportunity to win a championship, making it a win-win. The Miami Heat would get 2 solid players in Aaron Gordon and Monte Morris. Gordon is a great defender who can guard 1-4, while Monte Morris has shown he can score given the requisite touches. The Heat would also get a skilled project player in Bol Bol as well as future draft compensation for Butler.
4. Pascal Siakam
Denver Nuggets Receive: Pascal Siakam
Toronto Raptors Receive: Aaron Gordon, Will Barton, Bol Bol, PJ Dozier, a future first-round pick
Pascal Siakam's Toronto Raptors didn't do so well this season, only finishing 12th in the Eastern Conference. However, Pascal Siakam is 27 years old and is about to enter his prime. He put up 21.4 PPG and 7.2 RPG while averaging a career-high 4.5 APG as well. There is no doubt that Pascal Siakam would be a great addition to the Denver Nuggets, and that he would be a great tertiary option behind Nikola Jokic and Jamal Murray.
The Denver Nuggets would have to give up Aaron Gordon as the salary base for this deal. Will Barton is a solid spark plug scorer, and in this scenario, he would either accept his player option or agree to a sign and trade to Toronto. Bol Bol and PJ Dozier would be young players who could thrive with Toronto's development system, as it is that very system that helped Siakam become an amazing NBA player. The future picks will be good for Toronto as well, as they have been known to find diamonds in the rough, even with later picks.