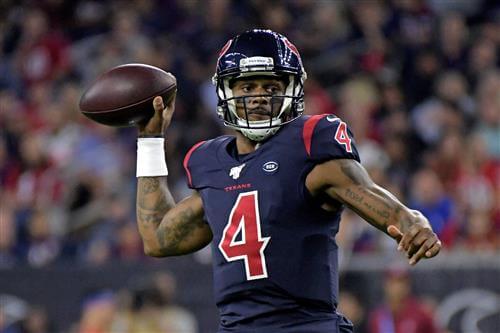 In the mist of our superb spree of in-depth Deshaun Watson trade scenario analyses, the New England Patriots stand out as a destination that really makes a lot of sense for the Houston Texans superstar quarterback.
There are a number of factors at play here: an existing relationship between the two franchises that features a lot of crossover from coaches and executives, not to mention the salary cap circumstances and how Watson's strengths translate to what New England likes to do offensively.
Could Watson actually be Tom Brady's long-term successor in Foxborough? Let's take a closer look.
1. Front office ties to new Texans GM Nick Caserio
The longtime New England director of pro personnel just so happened to be hired as Houston's new general manager. Caserio is obviously well-respected, and it's somewhat telling the Texans went back to the well of Patriots connections in hiring him.
It's surprising Houston did so considering its tumultuous recent tenure with fired coach/de facto GM Bill O'Brien. Watson was supposed to be looped into the conversations about who to hire as the team's new GM and head coach, but was apparently left out in the cold on the executive search and is reportedly angry as can be about it, per ESPN's Adam Schefter.
Not a great start to the Caserio-Watson relationship, and Texans ownership already appears to have alienated the superstar. Whether there's a possibility to repair the relationship is unclear. The fact that trade rumors are buzzing about suggests it's not.
If there's anyone better suited to broker a deal between a trade suitor and Houston, it's hard to think of Caserio negotiating with New England as a more logical scenario. The fact he's so close with Patriots boss Bill Belichick makes it absolutely ideal for the two to try to work something out. Caserio could kick-start his Texans rebuild with numerous assets from New England, and Belichick could instantly solve his quarterback problem.
2. Patriots actually have cap room to acquire Deshaun Watson
With the salary cap slated to lower a ton for 2021, most teams lack the financial resources required to land Watson. There aren't many clubs who have the luxury of tons of cap space. It's almost as if New England had a long-term vision for its quarterback spot in the post-Brady era. Maybe Belichick is smarter than we already give him credit for.