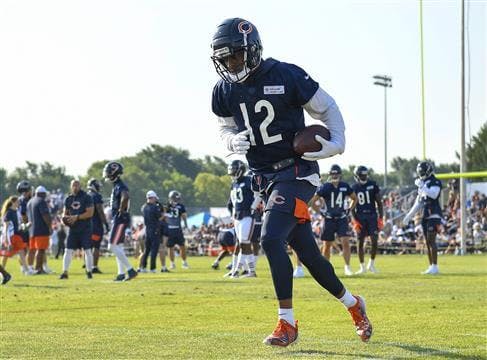 Allen Robinson has been dragged down by poor quarterback play with the Chicago Bears for years. Set to be a free agent this offseason, the Pro Bowl wide receiver seems destined for the franchise tag. Fortunately, he might still be able to get away from quarterback purgatory thanks to a sign-and-trade.
The 2021 NFL offseason has already seen multiple blockbuster trades go down. Matthew Stafford and Jared Goff swapped places in a monumental move. Then, Carson Wentz got his wish with a trade to the Indianapolis Colts. Even bigger moves could be looming, thanks to Deshaun Watson and Sam Darnold generating a bunch of interest.
Don't think it will only be an active quarterback carousel this spring. With the likes of Allen Robinson, Chris Godwin, Kenny Golladay and JuJu Smith-Schuster, there could be a ton of wide receivers teaming up with new quarterbacks in 2021.
Entering the offseason, Chicago Bears head coach Matt Nagy and general manager Ryan Pace are working with their jobs on the line. While much of the spotlight centers around their plans to replace Mitchell Trubisky, there are plenty of other roster issues. Among them, the complete absence of a go-to weapon currently on the 2021 roster.
The Bears have a decision to make within the next month, but that call might already be made. Robinson is expected to receive the $18 million franchise tag, ensuring that he is under contract for next season. While it will keep one of the NFL's best receivers off the open market, where he could freely sign with another team. his return to Chicago isn't certain.
If the Bears can't land Watson or Darnold, the team will quickly run out of options. Trading up into the top-10 of the 2021 NFL Draft is unlikely, leaving Chicago with unappealing options to replace Trubisky. If that happens, trading Robinson away feels even more likely. With that in mind, let's examine some realistic trade destinations.
Baltimore Ravens
Baltimore desperately needs to find a No. 1 wide receiver for Lamar Jackson. Marquise Brown is fine in a complementary role and Mark Andrews is an excellent tight end, but nothing beats a receiver who a quarterback can always trust to get open. Robinson dealt with one of the worst quarterbacks in the NFL and still finished as Pro Football Focus' No. 5-graded receiver. He is a force to be reckoned with, leading the NFL in contested catches (47) across the past two years.
Baltimore Ravens receive: Allen Robinson, conditional 2022 fourth-round pick
Chicago Bears receive: Orlando Brown Jr.
Robinson would easily be the best receiver Jackson ever had, putting him in a better position to return to that NFL MVP form. Plus, Chicago and Baltimore might be nice trade partners. Orlando Brown Jr. wants out because of his desire to play left tackle, a glaring area of need for the Bears. Because Brown Jr. plays a more premium position and costs significantly less, Chicago will likely need to attach a draft pick. With that said, this could be a trade where both sides are winners.
New York Giants
The New York Giants remain committed to Daniel Jones. It's a kind of confidence we wouldn't have in a quarterback who has failed to improve after two seasons, but that's for another day. If Dave Gettleman and Joe Judge are going to keep betting on their "franchise" quarterback, however, he deserves a legitimate go-to weapon.