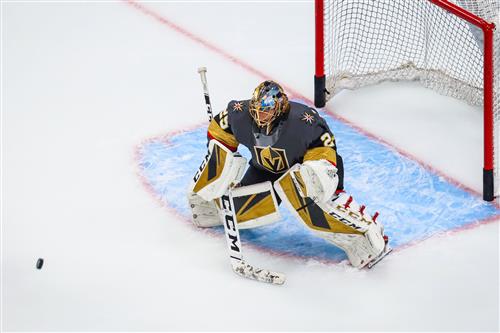 After an unsuspecting tweet by his agent shook the hockey world, Marc-Andre Fleury and the Vegas Golden Knights have become a talking point. Stemming from a lack of playing time during the playoffs, the tweet, although now deleted, seemed to accelerate the process of what was Vegas going to do when the offseason rolled around.
Now, with the Golden Knights eliminated from the playoffs and seemingly sticking with Robin Lehner, Vegas has to find a way to move Fleury's $7 million salary-cap hit. The possibility of trade makes for some interesting places for Fleury to land when the 2020-21 season begins. Here are the five most probable places, based on projected cap space and current rosters, where Fleury could play if he were to accept a trade.
Calgary Flames
The Flames could be a prime fit for Fleury as the team has the tools to make a run at the Stanley Cup. They have made it to the playoffs in three out of the last five seasons and their youth seems to have found their place in the NHL. Mathew Tkachuk is slowly becoming a top tier player for not only the Flames but the league. With other players such as Elias Lindholm, Sean Monahan and Johnny Gaudreau, the Flames are close to being an elite team in the Pacific. Fleury could add the deep playoff experience that could lift this young group over their first-round struggles.
However, there are a few pieces that make the Flames one of the least likely teams to trade for the three-time Cup champion. First, the Flames only have around $16.9 million in projected cap space. They also have 11 possible free agents to re-sign. Notably, one of them is Cam Talbot.