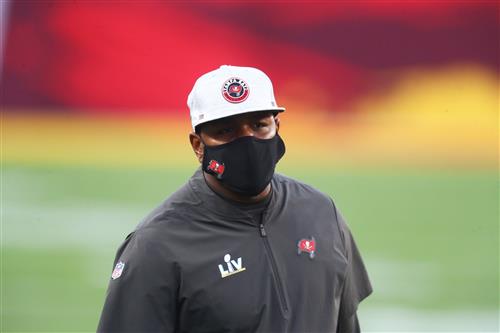 Here we are. The Minnesota Vikings are headed down yet another season where a Mike Zimmer-coached team fell short of expectations. They entered the year facing long Super Bowl odds (+4000), but their expected win total was set at nine wins.
At 3-5, the Vikings find themselves three games behind the Green Bay Packers for the NFC North division lead. Coming off back-to-back losses, they don't appear close to turning this ship around.
Zimmer's had a fine tenure in Minnesota, reaching the playoffs in three out of his eight seasons as head coach, but the inconsistency of his team's play has been maddening.
With the Vikings head coach reportedly facing a mandate to reach the playoffs, or reach for the exit door handle, it appears as though the man with a 67-52-1 win-loss record since taking over in 2014 could be coming to an end by season's close.
If/when Mike Zimmer gets fired in Minnesota, who are some top head-coaching candidates to take over the Vikings? Here are five we've hand-selected.
Sticking with defense, Minnesota makes it Snow
Since joining forces with Matt Rhule on the Carolina Panthers as their defensive coordinator in 2020, Phil Snow has transformed their defense from allowing the second-most points per game to one allowing the seventh-fewest.
Snow is a bit like Zimmer, he likes exotic blitzes and funky schemes at times, but his methods work. The Panthers are also allowing the second-fewest passing yards per game, with a secondary comprised mostly of younger players. Which is something the Vikings have greatly struggled with during the past few seasons of the Zimmer era.
One potential roadblock, Snow has been working alongside coach Rhule for nine consecutive seasons, following him from Temple to Baylor and now to the NFL. He's also 65, the same age as Zimmer. Is now the right time to be a head coach for the first time in Snow's coaching career?
While most in Minnesota are likely ready for drastic changes, meaning an offensive-minded head coach, if Rick Spielman or whoever ends up handling hiring duties, wants to stick with a defensive approach, Phil Snow could be the way to go. Snow also coached Vikings defensive tackle James Lynch at Baylor where he had 13.5 sacks his final season.
Rollin' with Buffalo's Brian Daboll
This could get awkward. Brian Daboll is the offensive coordinator for the Buffalo Bills, where former Vikings great and Minneapolis Miracle hero Stefon Diggs has spent the past two seasons. However, Daboll has been the play-caller behind the surging superstar Josh Allen. Their biggest fault in Buffalo is not being able to run the ball. Hello, Dalvin Cook.
While Daboll may feel like he has some unfinished business with the Bills after reaching the AFC Conference Championship last season, the idea of an offense featuring Justin Jefferson, Cook, Adam Thielen, and K.J. Osborn for the next few years has to be intriguing.