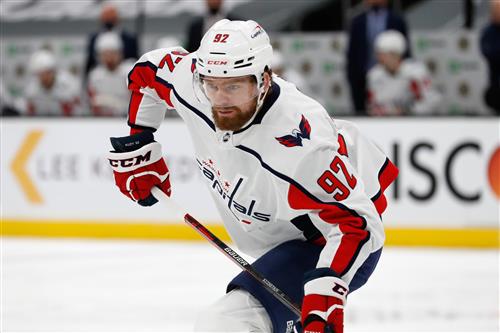 Could the Washington Capitals listen to trade offers this summer for Evgeny Kuznetsov?
That's what TSN's Pierre LeBrun suggested on May 4, noting the 28-year-old center and Ilya Samsonov were scratched from a recent game for being late to a team function. LeBrun also pointed out Kuznetsov was part of a group of four Capitals who violated the COVID-19 protocols earlier this year, and that in September 2019, the NHL suspended him three games for "inappropriate conduct."
Read More- Are the New York Rangers the front-runner for Jack Eichel?
Factor in Kuznetsov's inconsistent play, and he's reportedly starting to "irritate" some within the Washington organization, though LeBrun didn't indicate who they were.
After coming to Washington from the KHL in 2014, Kuznetsov's offensive skills and chemistry with captain Alex Ovechkin soon made him part of the Capitals core. He tallied 52 or more points per season between 2015-16 and 2019-20, including a career-high 83 points in 2017-18. He was also the leading scorer of the 2018 playoffs with 32 points during the Capitals' run to the Stanley Cup.
While the Capitals try to hang on to second place in the MassMutual East Division, Kuznetsov is not enjoying a stellar season. His 29 points in 41 games rank sixth on the team, though he's tied with Tom Wilson for second with four game-winning goals.
Trading Kuznetsov this summer won't be easy. Cap Friendly shows him with four years remaining on his contract with an annual average value of $7.8 million and a 15-team no-trade list.
With the salary cap remaining at $81.5 million for 2021-22, there aren't many teams that could afford to take on his expensive cap hit. His recent disciplinary issues could also dampen his trade value. Finding a decent return that perhaps includes a young forward with the potential to become a first-line center could also prove challenging.
Nevertheless, Kuznetsov's playmaking skills could prove attractive to teams seeking additional scoring punch at center. Here's a look at five possible landing spots.
Arizona Coyotes
The Arizona Coyotes will miss the playoffs for the eighth time in nine seasons. Having parted ways with head coach Rick Tocchet, first-year general manager Bill Armstrong could also decide to shake up his roster in the offseason.
Kuznetsov could be a fit in Arizona if the Coyotes aren't on his no-trade list. It would provide him a fresh start in a warm-weather market under less pressure. His offensive skills and postseason experience could provide a boost for the Coyotes.
The lack of a proven top-line center is a longstanding issue for the Coyotes. Current centers Christian Dvorak and Nick Schmaltz have yet to prove themselves capable of handling that role. It's been a contributing factor behind a Coyotes offense that was 21st this season in goals-per-game average (2.68).
Kuznetsov could fit well on the Coyotes' top line alongside right wing Phil Kessel and left winger Clayton Keller. Kessel, 33, enjoyed a fine bounce-back performance this season, reaching 20 goals for the 12th time in his career. The 22-year-old Keller, meanwhile, could benefit from skating with an experienced playmaking center.
With $50.1 million invested in 12 players for 2021-22, the Coyotes have the cap space to absorb Kuznetsov's $7.8 million cap hit. They could offer up Dvorak ($4.5 million annually through 2024-25) or Schmaltz ($5.9 million annually through 2025-26) as part of the return in a package deal. One of them might benefit from being an offensive center on a deeper club like the Capitals.
Chicago Blackhawks
Chicago Blackhawks captain Jonathan Toews missed the entire 2020-21 season battling an undisclosed illness, and his absence contributed to the Blackhawks missing the playoffs. On April 21, TSN's Darren Dreger reported Toews should be ready to return to their lineup next season.
Should Toews suffer a setback, however, the Blackhawks could seek a proven first-line center. If it's a long-term issue, Kuznetsov could end up on their radar.
The Blackhawks' depth at center took a big hit this season. In addition to Toews' absence, promising Kirby Dach also missed all but 18 games recovering from surgery to repair a fractured wrist and the aggravated scar tissue associated with that procedure.