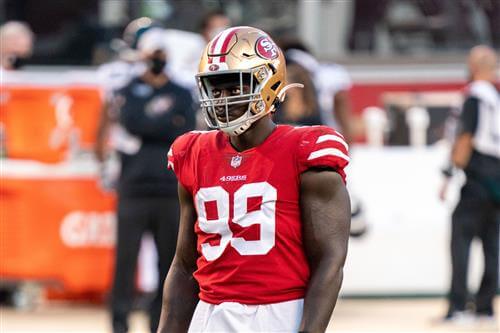 It's crunch time.
NFL teams across the league are starting to mount their final pushes for the postseason. And while each team's stars will be the focal point in making sure that happens, how a team's supporting cast fares often is what can elevate a team from a playoff squad to a legitimate contender.
And often, it's rookies who start to blossom late in their first seasons that can boost a team's chances in January – and even into February.
Here are five rookies who need to step up for their teams to make deep runs into the postseason.
Antonio Gibson, RB, Washington Football Team
A lot of fans bag on the NFC East (with good reason) for being the weakest division in football. While that may be the case, Washington (4-7) might be the team best positioned to finish first and host a playoff game.
Gibson ranks 12th in rushing yards with 645. But the positive for Washington is that the third-round pick out of Memphis has steadily improved as the season has progressed. Though Gibson has started seven of Washington's 11 games, he gained just 243 yards through the team's first six contests. But over the last five games, Gibson has gained 402, averaging a 5.4 yards per carry with eight touchdowns.
Most importantly, Washington is 3-2 over the last five, compared with 1-5 over the first six. It's pretty clear: when Gibson and the Washington rushing game can get steady production, the team fares better.
Michael Pittman, Jr., WR, Indianapolis Colts
Indianapolis already has another standout rookie, safety Julian Blackmon, who is making game-changing plays. But Blackmon is already fairly consistent. What the Colts need is for rookie receiver Michael Pittman, Jr. to take the next step.
His numbers are fairly pedestrian (26 catches, 330 yards, one touchdown). But considering that Indy's leading receiver, T.Y. Hilton has only 408 yards, it shows that there's room for someone to break out. And when Pittman has had moments, he has shown that he can create big plays.
Part of Pittman's somewhat slow start has been that he's still figuring out the nuances of playing the position in the NFL, as are just about all rookies. But he also dealt with a lower leg injury that forced him to miss three games. Given his size at 6-foot-4, his understanding of how to use that frame to box out defensive backs and his speed, Pittman is poised to eventually become Indianapolis' (7-4) top target. Quarterback Philip Rivers and the Colts need that.