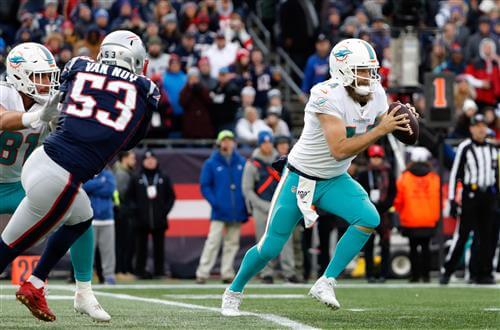 Every NFL team improved at certain positions during the offseason. Whether it was finding a quarterback of the future or a veteran ready to make an impact, this has led to other players facing a ton of pressure heading into training camp.
Will Miami Dolphins quarterback Ryan Fitzpatrick keep his starting job? There's a couple of veteran backs in Indianapolis and Baltimore looking to hold off impressive rookies, too.
It's in this that I look at five NFL players who could lose their starting jobs once training camp gets going in about two weeks.
Ryan Fitzpatrick, quarterback, Miami Dolphins
I previously focused on Fitzpatrick as one of the most underrated quarterbacks in the NFL. That could very well be true while also acknowledging that he's nothing more than a placeholder starter in South Beach. Prior to selecting him No. 5 overall in the 2020 NFL Draft, the Dolphins had been targeting Tua Tagovailoa for well over a calendar year. They are obviously high on him.
The hip injury Tua suffered late in his final season at Alabama has seemingly healed a lot quicker than anyone anticipated. Sure it's going to be hard for a rookie quarterback to show much during training camp after all off-season activities were canceled. In no way does that mean Fitzpatrick is a lock to be the Dolphins' Week 1 starter. Let's see how Tagovailoa performs in training camp, should he get the opportunity.