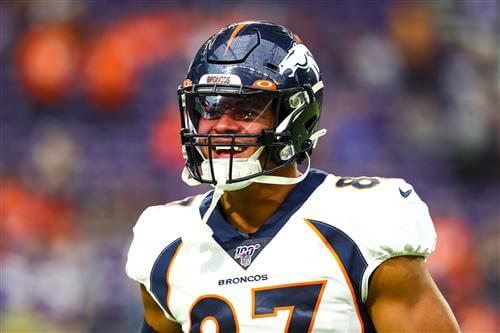 NFL training camps are set to get going around the league later this month. It's been a long time coming for players after the entire off-season program was scrapped due to the ongoing pandemic.
Players will want to show out for their teams. That includes rookies in both Detroit and Tampa Bay. Meanwhile, youngsters with the Cardinals and Broncos are primed for big showings this summer.
Here's a look at five NFL players set to surprise during training camp.
D'Andre Swift, running back, Detroit Lions
The Lions do have a young back in Kerryon Johnson who performed extremely well as a rookie back in 2018, averaging a robust 5.4 yards per rush. However, the Auburn product struggled to the tune of 3.6 yards per rush and missed eight games as a sophomore last season.
Enter into the equation record-setting former Georgia ball carrier D'Andre Swift. He was selected 35th overall by Detroit back in April. The 5-foot-8, 212-pound back recorded nearly 2,700 total yards with 21 touchdowns in his final two seasons with the Bulldogs. He'll have an opportunity to show out once camp opens. Expect him to be a major story in Detroit.
Christian Kirk, wide receiver, Arizona Cardinals
More than any Cardinals player outside of Kyler Murray, this young receiver is going to benefit from Arizona's acquisition of DeAndre Hopkins. Kirk, 23, is coming off a sophomore season that saw him record 68 receptions for 709 yards while catching 63% of his targets.
Now that Kirk is entrenched in as the Cardinals' top slot receiver with Hopkins and Larry Fitzgerald outside, the sky seems to be the limit for this Texas A&M product. I am highly intrigued to see Kirk work his magic with Murray during training camp. It could be special.