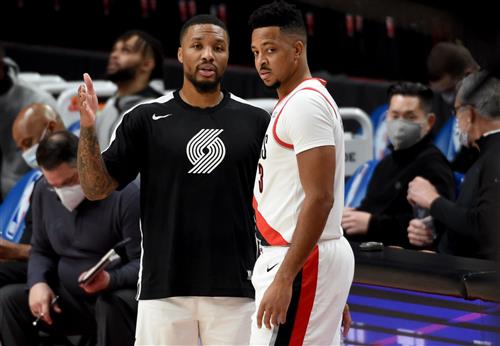 For many teams, the 2021 NBA offseason could be a time of subtle change.
Kawhi Leonard is the only superstar free agent, and it seems highly unlikely he will leave the Los Angeles Clippers. That's, perhaps, just as well, since few teams have major money to spend and even fewer pair significant cap space with win-now attentions.
Read More: Blake Griffin Asked About Joining Boston Celtics But A Celtics Player Told Him Not To
But for a handful of clubs, the coming months could bring about radical transformations.
Whether because of playoff disappointments, roster flaws or, in one case, a superstar's exit that spawned a top-to-bottom overhaul, the following five teams might enter next season in completely different shape than they exited this one.
Boston Celtics
So much for summer vacation.
The Boston Celtics have already kept plenty busy since their five-game, first-round series loss to the Brooklyn Nets. Former president of basketball operations Danny Ainge retired, and former coach Brad Stevens stepped into that spot. Barely two weeks into his new role, Stevens authored a blockbuster, sending Kemba Walker and draft picks to the Oklahoma City Thunder for a package built around former Celtic Al Horford.
This could be only the beginning for a team that fell woefully short of expectations this season. The Celtics were supposed to contend for the crown; they went .500, had to punch their playoff ticket in the play-in tournament and were knocked out of the opening round.
Jayson Tatum is going nowhere. He's the organizational centerpiece. Jaylen Brown is probably staying put, too, though if the Portland Trail Blazers are ready to talk Damian Lillard trades (more on that later), Brown could conceivably top their wish list.
If the Celtics swing a big trade without sacrificing a star wing, that probably means the end of the road for their longest tenured player, Marcus Smart. It could also mean giving up a prospect or two such as Romeo Langford, Aaron Nesmith or Payton Pritchard to sweeten the offer and up the return.
Boston doesn't have much of consequence heading to free agency beyond deadline acquisition Evan Fournier. The Celtics presumably want to keep him for his support scoring, shooting and table-setting (and have more future financial flexibility after the Walker deal), but if an offense-starved shopper blows up his market, he could be out of the equation, too.
Dallas Mavericks
The Dallas Mavericks are nearly two months away from being able to rework their roster, and they are already unrecognizable.
Rick Carlisle, their head coach since 2008, is gone. His exit was preceded by the departure of president of basketball operations Donnie Nelson, who spent the past 23 years with the franchise. Nelson's farewell followed a report from The Athletic's Tim Cato and Sam Amick detailing such disorder within the front office that it has caused concern about Luka Doncic's desire to stay long-term.
Other than that, though, things are fine. Or wait, no, they are absolutely not.
The Mavericks have not only failed to find their coveted third star, they also just watched presumed second star Kristaps Porzingis flop in their first-round series loss to the Los Angeles Clippers. Over the seven games, he netted 20 points once, finished in single digits three times and encountered myriad issues with defensive mobility. His future earnings ($65.5 million over the next two seasons) and injury history hang a massive cloud over the organization.
Dallas will almost certainly shop Porzingis this summer, but the Mavs may not like the market they find. It's hard to imagine they will net more than a similarly imperfect, high-priced player or maybe a collection of non-stars.
Dallas could have more than $35 million in cap space this summer—flexibility that will be gone going forward once Doncic inks his max extension—but it would cost the team a rotation regular such as Tim Hardaway Jr., Josh Richardson or Willie Cauley-Stein.
The reshuffling has already started, and it could spiral over the coming months.