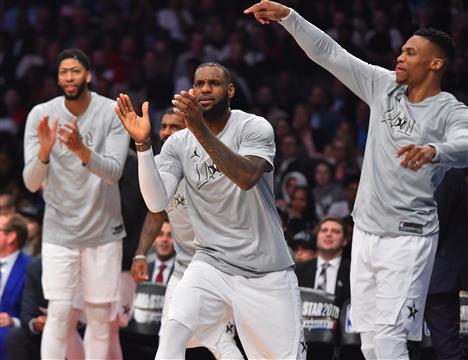 Clued-in hoops heads understand that starting lineups are no longer everything to NBA teams. Closing units and, overall, the most-played combinations are more critical than jumping-tip arrangements. Starter designations can, in theory, be coveted titles without profound substance.
And yet!
Most teams aren't rolling out five random players to begin games. Nor are they fielding starting units with the hope or expectation that group won't rank among their most effective lineups. So while opening combinations may not be end-alls, they absolutely matter. And some teams need to start shaking theirs up.
Bad results do not necessarily mandate adjustments. A rebuilding team like the Detroit Pistons is starting the right players despite getting hammered during those minutes.
Injuries must also be taken into account. Quibbling over whether the New Orleans Pelicans should start Josh Hart, Garrett Temple or Nickeil Alexander-Walker alongside Devonte' Graham, Brandon Ingram, Herb Jones and Jonas Valanciunas rings hollow when their Zion Williamson-sized hole isn't going anywhere.
There's likewise no point rendering a verdict on the Toronto Raptors' projected starting five of Fred VanVleet, Gary Trent Jr., OG Anunoby, Scottie Barnes and Pascal Siakam when it's played so little. The Minnesota Timberwolves will insert Patrick Beverley back into the fold once he's healthy. And so on.
This exercise is all about spotting more permanent starting units with better alternatives that verge on the painfully obvious or necessary.
On-the-Fence Exclusions
Los Angeles Clippers
Eric Bledsoe has come off the bench for the past three games, so the Clippers are in the clear. They should probably start both Nicolas Batum and Marcus Morris Sr. when the former returns, but testing out iterations with one of Serge Ibaka and Luke Kennard isn't egregious.
Los Angeles Lakers
Anthony Davis started at center on Tuesday night, and DeAndre Jordan is receiving DNPs. It took way too long for them to get here, and we may eventually need to have a "Why is Avery Bradley starting?" discussion. But the Lakers have escaped our microscope, for now, by belly flopping into common sense.
Portland Trail Blazers
Portland isn't healthy enough to implore they go away from the quintet of Damian Lillard, CJ McCollum, Norman Powell, Robert Covington and Jusuf Nurkic when it's once again available. But head coach Chauncey Billups should absolutely be thinking about it. Benching Covington or Nurkic for Larry Nance Jr. is worth exploring if this group doesn't get its defensive act together.
Sacramento Kings
I'm not in love with the Chimezie Metu-Richaun Holmes frontline. I'm also not in love with the alternatives. Buddy Hield's efficiency has fallen off a cliff after a nice start, and Maurice Harkless is not the answer. Metu-Holmes is at least holding up defensively, though I'd still be more inclined to downsize with Terence Davis, as the Kings did on Wednesday.