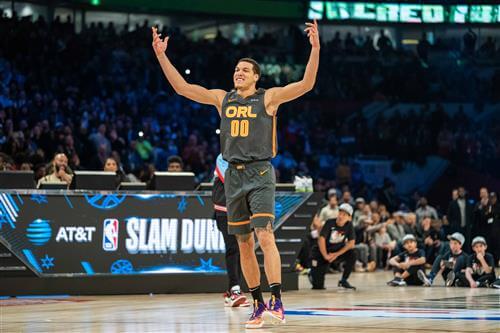 Players can grow apart from their NBA teams before their contracts split them up. When that happens, the situation is unsalvageable, and a trade becomes necessary.
Maybe a team changes its overall direction and renders a player obsolete. Or perhaps that player gets trapped in a tough situation due to poor choices made by the organization.
For a variety of reasons we'll detail momentarily, these five players must find their ways to different rosters over the offseason.
Aaron Gordon, Orlando Magic
1 OF 5
Aaron Gordon has spent all six of his NBA seasons in Orlando. The next time he encounters anything close to ideal on-court conditions will be the first.
The Magic, who have employed five different coaches during his tenure, have overcrowded their frontcourt and remained understaffed in the shooting and scoring departments. That has effectively narrowed Gordon's attack lanes and left him overexposed with shot-creation duties he isn't equipped to handle.
In the modern NBA, he's a small-ball big who should be an explosive pick-and-roll screener given his moon-boots bounce. Instead, the Magic have tasked him more with handling pick-and-rolls (131 possessions) or running isolations (53) and almost entirely neglected him as a roller (25). He's a 74th percentile finisher on one of those play types and below the 27th percentile in the other two; care to guess where he excels?
Orlando reportedly "tried hard" to deal him at the deadline, per Heavy's Sean Deveney, which means one of two things is taking place. Either the Magic are asking too much or the market just isn't that into Gordon. We'll go with the former since it's hard to imagine clubs ignoring a 25-year-old with limitless athleticism and enviable versatility at the defensive end.
If he can get into a new city, a new offense and a new role, he still has time to show why he was the fourth overall player selected in 2014.
Al Horford, Philadelphia 76ers
2 OF 5
When 76ers general manager Elton Brand spoke of the need to "complement" Ben Simmons and Joel Embiid "better," per ESPN's Tim Bontemps, he might as well have been pointing to a billboard of Al Horford.
Philly's problems this season didn't start or stop with Horford. But of all the hurdles the organization encountered, his horrific fit with this roster could be the toughest to solve.
He doesn't work alongside Joel Embiid. Of the 16 different pairings to which Philly gave 600-plus minutes this season, only the Horford-Embiid duo had a negative net rating (minus-0.5 points per 100 possessions).
Embiid is the single most important player to the Sixers' championship hopes, a modernized Hakeem Olajuwon with flawless footwork in the post and there-when-he-needs-it touch from the perimeter. Not working with him means not working in Philly.