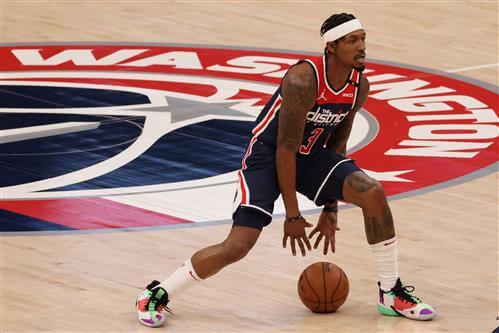 The NBA trade deadline is not until March 25 but that doesn't mean that a blockbuster, or two, couldn't happen before then. We have already seen the Houston Rockets and Brooklyn Nets shock the world with their four-team blockbuster featuring James Harden go down. With nearly two months left until the deadline, it doesn't hurt to have some ideas thrown into the fold.
With that said, we have five ideas for trades that could happen from now to then. We understand that not all five trades will happen but are within the realm of reality. All of these contending teams would love to bring this missing piece to their team to help contend for an NBA championship.
5. Andre Drummond To The Los Angeles Clippers
Cavaliers receive: Pat Beverley, Lou Williams, Ivica Zubac
Clippers receive: Andre Drummond
Drummond has to be on his way out, right? The Cavaliers swooped in and were able to pick up Jarrett Allen for essentially nothing. Allen was closing games out with the Nets and owns double-double potential every night. He is going to be their starting center moving forward. That sets up a trade for the current NBA rebounding leader, who is playing like a flat out All-Star. Drummond is averaging 14.6 points and 13.9 rebounds this season and is worth a first-round pick, even if it is a rental.
Drummond brings the Clippers' franchise size, which they do not possess with their current center situation with Zubac and Serge Ibaka. While Drummond cannot compete with the likes of Anthony Davis on offense, Drummond could hold him down inside. Drummond brings the potential of coming down with 15 rebounds each night, which would neutralize any team's hope for second-chance points. As for Ibaka, he is versatile and could play at power forward, so that both Drummond and Ibaka could play at the same time. The Cavaliers would get a solid defender in Beverley, an expiring contract in Williams, and a center that can compete with Allen for minutes.
4. Victor Oladipo To the Philadelphia 76ers
Rockets receive: Danny Green, Shake Milton, 2021 first-round pick
76ers receive: Victor Oladipo
At some point, the Rockets are going to realize that this core is not good enough to compete, so they should maximize on all of their assets. The Rockets were able to turn James Harden into four first-round picks and Victor Oladipo. The Rockets should flip Oladipo. who is in a contract year, for more draft capital. Houston is the No. 14 team in the Western Conference with the Minnesota Timberwolves as the only team ranked below them. It's time to begin the firesale.