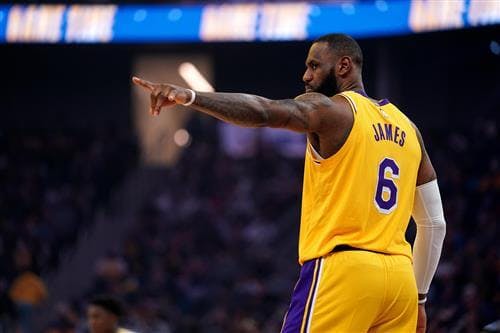 LeBron James is one of the greatest NBA players of all time, and his longevity is unprecedented. The King has played 19 straight seasons at an elite level, never averaging under 20 PPG. A 6'8" powerhouse with the greatest all-around skill set ever, James is doing things nobody could have ever expected. There is no wonder why James is deeply involved in the GOAT debate, a conversation that includes Michael Jordan and Bill Russell among others. LeBron is simply a one-of-a-kind athlete, and his resume will likely stand the test of time.
But at age 37 in year 19, conversation about LeBron riding off into the sunset is also becoming common. After all, how long can James keep this level of play going in the best league in the world? The King looks to be in tremendous shape and he looks like he can play for another few years at least. Why would anyone bet against him? The only person in LeBron's way is LeBron himself because the 4-time NBA champion seems to be evading father time better than anyone else in basketball history. But the biggest driving factor in LeBron continuing to play the game is his desire to play with his son, Bronny James.
Bronny is eligible to be drafted into the NBA by 2024, and LeBron plans to stick around until then. The King has mentioned that he will do whatever it takes to play with his son for a year, meaning the 2025 season could be the final time we see The King on the court. We have seen LeBron move teams multiple times in his career, and we could be due for one more move as he joins his son in one of these 5 most realistic destinations.
Oklahoma City Thunder
Potential Superteam: LeBron James, Shai Gilgeous-Alexander, Josh Giddey, Bronny James
The Oklahoma City Thunder will be among the teams grabbing top draft picks over the next few years at the very least, because they have accumulated an incredible amount of first-round picks. If there is one team that has the most chance of grabbing Bronny James in the draft, it will be the OKC Thunder. The franchise is known for finding a way to select players with potential and based on what we have seen from Bronny until this point, it certainly makes sense that The King's son is selected.
That means LeBron James will join his son with the Thunder. While championship expectations will be hard to tell at this point, it would certainly be amazing to see OKC finally make it to the Finals again for the first time since 2012. The franchise has seen the likes of Kevin Durant, Russell Westbrook, and Paul George all play for the franchise; but none were able to deliver the coveted NBA title. With a rookie Bronny and a King well into his 40's joining Shai Gilgeous-Alexander and Josh Giddey, Thunder fans could be in for an interesting season just a few years from now.
Charlotte Hornets
Potential Superteam: LeBron James, LaMelo Ball, Miles Bridges, Bronny James
Michael Jordan is certainly not afraid of drafting high-profile "celebrity" rookies, as he did with All-Star LaMelo Ball. LaMelo was the most marketed rookie in the 2020 Draft, mainly because of LaVar Ball, and he has certainly brought some excitement to Charlotte after years of mediocrity. For the first time in a very long time, the Hornets have a potential superstar point guard on their hands. It is very fitting to imagine that Michael Jordan and the Hornets select Bronny James in the draft, while also attracting LeBron James to their squad.