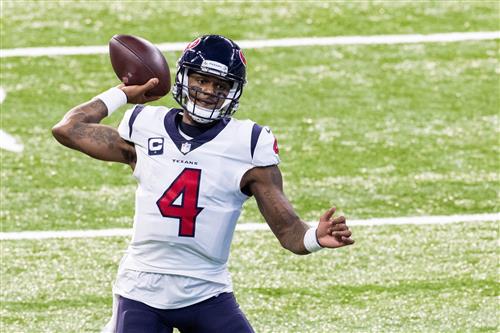 There's no telling whether Houston Texans quarterback Deshaun Watson will be dealt ahead of the November NFL trade deadline.
What we do know is that the Pro Bowl quarterback requested a trade early this past offseason, only to ultimately face allegations of sexual assault and/or misconduct from north of 20 women.
A recent report from Fox Sports NFL insider Jay Glazer notes that the Texans are softening their stance on compensation in a potential Watson trade after he was inactive for the first three weeks of the season. It's in this that a deal could get done within the next month or so. If so, here's a look at five ideal Deshaun Watson trade scenarios.
Deshaun Watson trade to the Pittsburgh Steelers
Steelers get: Deshaun Watson
Texans get: 2022 first-round pick, 2023 first-round pick, 2024 first-round pick, Minkah Fitzpatrick
Steelers general manager Kevin Colbert has struggled even attempting to find an eventual heir-apparent to future Hall of Famer Ben Roethlisberger. Now that the 39-year-old quarterback has hit that proverbial wall and is likely in the midst of his final NFL season, pressure is the name of the game in the Steel City. A franchise-altering move might need to be in the cards for the Steelers to remain at least somewhat relevant in the AFC.
That's where this huge bounty comes into play. Pittsburgh exhausts its first-round picks each of the next three years as well as stud safety Minkah Fitzpatrick in a trade for Watson. In turn, Houston could either build its defense around Fitzpatrick or flip him for more draft assets. It almost makes too much sense for both teams.
Deshaun Watson trade to the New Orleans Saints
Saints get: Deshaun Watson
Texans get: Michael Thomas, Marcus Williams, 2022 first-round pick, 2023 first-round pick
Jameis Winston has been on and off through his first three starts as a member of the Saints. He threw five touchdowns in the season opener before struggling Week 2 in a loss to the Carolina Panthers. While Winston was more efficient in last week's win over the Patriots, there's major issues here.
Everyone knows that Sean Payton wants to find that eventual long-term replacement for Drew Brees. Obviously, Watson would be that.
As for Houston, it adds a record-breaking wide receiver in Michael Thomas as well as a Pro Bowl-caliber defensive back with Marcus Williams. Acquiring two future first-round picks while potentially relying on rookie Davis Mills under center could make sense. If Mills does not pan out, Houston could use the 2022 NFL Draft to find another quarterback.