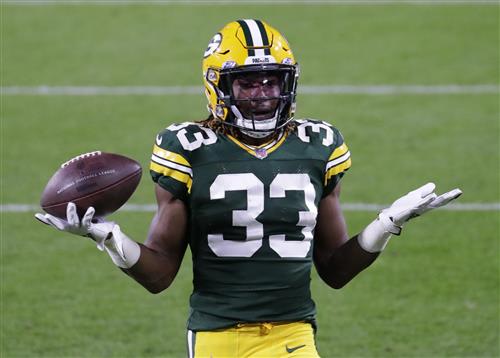 We see it every year around the league. Overrated NFL free agents signing big-money deals, putting teams in salary cap hell in the process.
The Las Vegas Raiders' decision to release wide receiver Tyrell Williams and defensive back Lamarcus Joyner got us thinking about this. Both signed back in March of 2019, the two veterans were released after just a couple seasons. This came after the Raiders handed them a combined $86-plus million in total contracts.
Heading into the start of free agency around the NFL, there's a number of well-known players who are going to sign big-time contracts while failing to live up to expectations. Below, we look at the five most overrated NFL free agents of 2021.
Jadeveon Clowney, edge, Tennessee Titans
Clowney could not have been a bigger bust for the Titans a season ago. He signed a one-year, $13 million contract with Tennessee in September, including a whopping $11.5 million guaranteed at signing. This came after Clowney recorded a combined three sacks with the Seattle Seahawks in 2019.
The former No. 1 overall pick responded by tallying 19 tackles, six quarterback hits and zero sacks for Tennessee. Zero sacks! He was brought on to improve the Titans' pass rush. That did not happen. Rather, Tennessee finished with a league-low 19 sacks. Despite this, there's a good chance Clowney will earn $10-plus million annually. That makes him one of the most overrated NFL free agents of the cycle.
Cam Newton, quarterback, New England Patriots
It's mind-blowing to look at. In his first season with the Patriots, Cam Newton recorded a grand total of eight passing touchdowns against 10 interceptions in 15 starts. This is extremely hard to do in a current NFL that benefits the passing game due to the rules. Sure Newton added 12 rushing touchdowns and didn't have much to work with in terms of skill-position talent. But this has to be concerning.
Now 31 years old, there's suggestions that the Patriots are considering retaining the former NFL MVP. Whether that's just being floated about as a tactic to acquire someone like Jimmy Garoppolo on the cheap remains to be seen. What we do know is that Cam has not been the same quarterback since undergoing shoulder surgery. If any team is set to rely on him as a starter-caliber player, said team will be sorely disappointed.