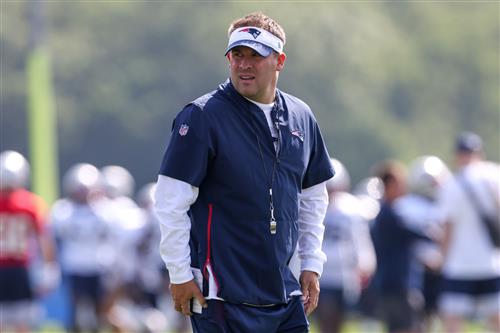 The New York Giants are now 3-7 on the season following an ugly 30-10 loss to the Tampa Bay Buccaneers in Week 11. This has head coach Joe Judge boasting a disastrous 9-17 record since taking over in Jersey ahead of the 2020 NFL season.
While there's been some reports that Judge's job is safe with general manager David Gettleman likely out of a job, what we're seeing from this squad doesn't inspire confidence.
In-game coaching issues on both sides of the ball coupled with the lack of progression from quarterback Daniel Jones has these New York Giants irrelevant on the broader NFL stage. Below, we look at five candidate to replace Joe Judge with the Giants should the team's brass opt to move off him.
New York Giants hire Josh McDaniels
Whether it's a recipe for success moving forward remains to be seen. What we do know is that these Giants are likely to move off Jones after just three seasons. He has not proven himself to be anywhere near a starter-caliber quarterback. Boasting an additional first-round pick in the 2022 NFL Draft, there's a chance that New York opts to go quarterback.
Could that dictate who the team hires as head coach? If so, McDaniels would make the most sense. He's been a top-end candidate throughout the NFL since an ill-fated tenure with the Broncos from 2009-10. He has a history of leading elite offenses with the New England Patriots. While doubling down on a Patriots assistant after hiring Judge away from that organization might be a hard move from a PR perspective, McDaniels could be the guy to turn around the ship in Jersey.
New York Giants give Dennis Allen a chance
Allen, 49, was an absolute disaster in two-plus season as the then-Oakland Raiders head coach from 2012-14 — posting an 8-28 record. However, it must be noted that he was young and immature. He was also tasked with leading an organization that was in shambles.
Allen has now worked as the Saints' defensive coordinator since leaving the Raiders. He took over an absolutely dreadful unit from Rob Ryan, ultimately leading the Saints to three top-10 scoring defenses over the past five seasons. He's been on the radar of many teams around the league, and could change up the environment on that side of the ball as long as Allen is able to bring in an experienced offensive mind.