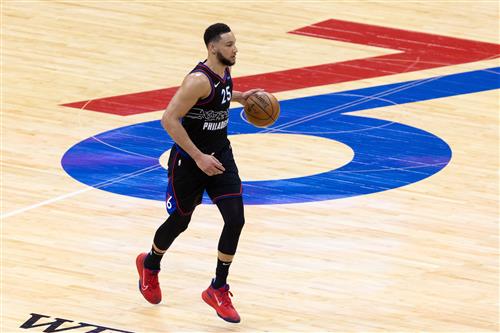 Regardless of what happens moving forward on the season, the Golden State Warriors will be looking to pull off a blockbuster trade during the summer.
With Klay Thompson slated to return to full health during the 2021-22 campaign and Stephen Curry playing at an otherworldly level, these Warriors view their previously narrow championship window as being wide open.
That should lead to an aggressive offseason for general manager Bob Myers and a Warriors ownership group that's willing to spend. Flush with one of the biggest non-player assets in the Minnesota Timberwolves' first-round pick, Golden State also has chips to make a big move. Below, we look at five blockbusters the Warriors could look to make.
Golden State Warriors trade for Ben Simmons
Warriors get: Ben Simmons
76ers get: Andrew Wiggins, Minnesota Timberwolves first-round pick
The Warriors might actually push back against trading the 26-year-old Wiggins given how well he's played this season. The former No. 1 pick is averaging 18.3 points and 4.8 rebounds on a stellar 47% shooting from the field. He's also going to get some play as an All-NBA Defensive Team performer having posted a 2.6 Defensive Win Shares on the season.
With that said, Simmons would act as an upgrade on both defense and from a ball distribution standpoint. He boasts a Defensive Win Shares of 3.2 on the campaign and is averaging 7.7 assists throughout his career. The addition of Simmons would enable both Curry and Thompson to play more off-ball. Imagine the Splash Brothers getting set up with wide open shots from both Simmons and Draymond Green in the frontcourt. That'd be too much fun.
Golden State Warriors trade for Domantas Sabonis
Warriors get: Domantas Sabonis
Pacers get: James Wiseman, Eric Paschall, Kevon Looney, 2025 first-round pick
Imagine being able to acquire an All-Star forward without having to give up that valuable Timberwolves first-round pick. This has to be considered the Warriors' goal during what promises to be a busy offseason in San Francisco. And it just so happens we've heard rumors that Sabonis could be on his way out of Indiana.
In this hypothetical, the Pacers acquire a talented former No. 2 pick to team up with Malcolm Brogdon. In return, the Warriors nab a 25-year-old big who is averaging 20.5 points, 11.8 rebounds and 6.4 assists on the season. Imagine Sabonis at the four with another elite passer in Draymond Green playing small-ball center. Add in Wiggins at the wing with the Splash Brothers doing their thing in the backcourt, and this is an immediate NBA title contender.