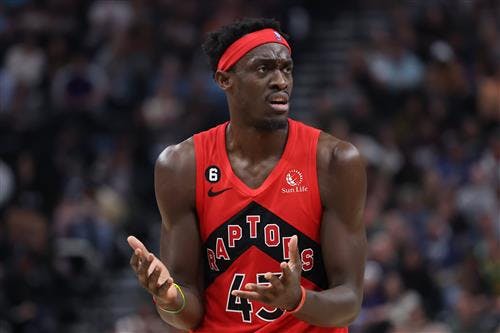 Blockbuster NBA trades have been the name of the game around during the NBA trade deadline in recent years. Just look at the in-season deal that sent James Harden from the Brooklyn Nets to the Philadelphia 76ers ahead of last year's trade deadline.
While things are moving relatively slowly leading up the the Feb. 9 deadline, the expectation is that it will pick up in the coming days.
We're hearing that the Chicago Bulls and Toronto Raptors could end up being sellers as the deadline approaches. The Dallas Mavericks could also end up going big-game hunting. Below, is a look at five blockbuster NBA trades we'd love to see ahead of the deadline.
Philadelphia 76ers land knockdown shooter at NBA trade deadline
Sixers get: Saddiq Bey, Marvin Bagley
Pistons get: Matisse Thybulle, Furkan Korkmaz, Jaden Springer, draft picks
Philadelphia front office head Daryl Morey has indicated that he doesn't expect to make a major splash ahead of the NBA trade deadline. For anyone who has followed his career, we know to take that with a grain of salt.
Philly currently sits at 33-17 on the season. It is in the midst of a run that has seen the team win 21-of-26. The championship window is right there for these Sixers, and we fully expect Morey to take advantage of that.
In this scenario, the 76ers add a sharpshooting and young wing in that of Saddiq Bey who is on the NBA trade block. The former first-round pick from Villanova is a career 36% shooter from distance. He's averaging 15.6 points in 31 minutes of action since the start of last season.
Imagine Bey teaming up with James Harden (39%), De'Anthony Melton (39%) and Tyrese Maxey (39%) as lethal three-point shooters for Philadelphia. As for Bagley, he'd provide size with Embiid inside. The former lottery pick fits a need in the low-post, an area the 76ers must address.
Detroit is in full tank mode in an attempt to acquire a certain generational star in the 2023 NBA Draft. The decision to shut down Cade Cunningham for the season adds another layer to this. With that said, it's not like this squad is void of young talent.
Moving off Bey while acquiring a few other youngsters and draft pick assets makes sense for general manager Troy Weaver. In this scenario, Detroit picks up a future first-round pick and two second-round selections from Philadelphia.
New Orleans Pelicans finally get that point guard
Pelicans get: Mike Conley
Jazz get: Devonte' Graham, Dyson Daniels, Daulton Hommes
After starting the season out with an 18-8 record, the Pelicans have fallen on hard times. They have lost 10 consecutive games. Zion Williamson is sidelined to injury. Point guard remains a major issue with C.J. McCollum forced into ball-handling duties. That's not the best use for this star player.