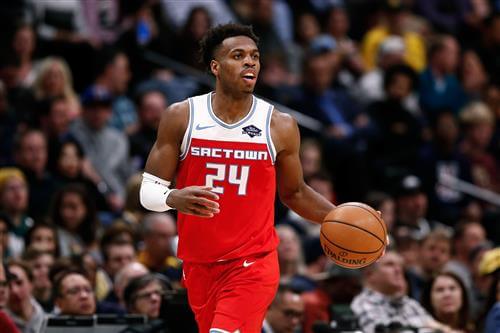 The Miami Heat made the NBA Finals last season, shocking everyone with their play as a defensive team. Led by their new signing Jimmy Butler, the Heat played like a team that deserved a chip and injuries destroyed their chances. But this season, they are struggling to find their form and are currently out of a playoff seed in the East.
The Heat still have Butler and All-Star center Bam Adebayo, but they could use one more key piece to make the Finals. The Heat have their defensive system in place, but they are lacking the proper talent to make a push in the postseason especially since they will not be a shocking team anymore. Here are the 5 best targets for the Miami Heat this season.
5. Rudy Gay
Trade Package: Kelly Olynyk, 2025 second-round pick for Rudy Gay
Rudy Gay is not the player he was in Memphis a decade ago, but he is a very capable scorer and athlete who can defend multiple positions. Gay seems happy in San Antonio, but clearly, he belongs somewhere he can compete for a chip as he nears the final stages of his career.
Rudy Gay with the Heat makes a ton of sense because he can run the floor with the guards, post up on offense, and can hit the outside shot. The Heat could use fresh blood and Gay's athleticism works well alongside Bam Adebayo, so the swap for Olynyk makes a ton of sense for Miami.
4. Buddy Hield
Trade Package: Andre Iguodala, Kelly Olynyk, 2025 first-round pick for Buddy Hield
Buddy Hield is a sharpshooter at heart, and the Heat could lure him by swapping two key players and a first-rounder for him. Hield shoots a career 40.6% from three, which means he would make a killing alongside shooters Duncan Robinson and Tyler Herro.