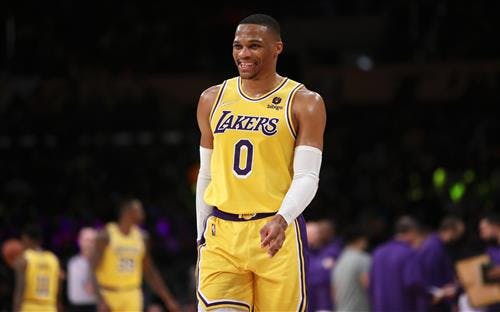 Do you believe that the Russell Westbrook experiment is working? Through 22 games, the Lakers are hovering around .500 and are barely in the playoff mix. Many expected the big three of LeBron James, Anthony Davis, and Westbrook to run the Western Conference. However, that has not been the case as the combination looks clunky and discombobulated.
Westbrook has averaged 20.6 points, 8.4 rebounds, and 8.7 assists this season while shooting 44.6% from the field and 31.3% from three-point range. However, Westbrook is second in the league in turnovers with 4.7 per game. The Lakers won a championship in 2020 with two stars in LeBron and AD complemented with an assortment of veteran role players.
If the team wanted to end the experiment now and give the team a chance to contend for a title, then they should make a call to these five teams and try to make a trade.
New Orleans Pelicans
Trade Package: Jonas Valanciunas, Devonte Graham, Tomas Satoransky for Russell Westbrook
If the Lakers wanted to get Davis out of the center, then they could lure Jonas Valanciunas from the Pelicans, who are having another solid season. The big man is averaging 18.5 points and 12.3 rebounds while shooting 50.3% from the field. Devonte Graham, the team's other "prized" offseason acquisition could be more of a backup point guard, but could also play starter minutes.
The team would need both Graham and Satoransky for salary purposes, but it would give the Lakers options. LeBron could move back to point or stay at small forward while Graham and Satoransky could provide starter/backup minutes.
Toronto Raptors
Trade Package: Pascal Siakam, Goran Dragic for Russell Westbrook, Talen Horton-Tucker
The Raptors started the year off strong, but have fallen back down to Earth. The team nearly traded Kyle Lowry to the Lakers last year in a package that included Talen Horton-Tucker. What if they could sway the Lakers into taking him this time. This would be a salary swap of two bad contracts in Westbrook and Siakam, so it would take a young player like THT to lure the Raptors.