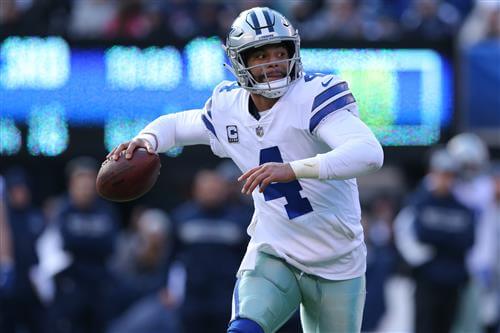 The Indianapolis Colts made the playoffs thanks in part to quarterback Philip Rivers experiencing a resurgence under head coach and play-caller Frank Reich.
However, Rivers officially announced his retirement on Wednesday, as his mobility and physical skills were good enough to get through 2020, but probably not far beyond that. This means the Colts, who have plenty of cap space and a talented roster heading into this coming offseason, should be in the market to upgrade under center, especially without Rivers in the picture.
Given how well the 39-year-old Rivers played this past season, with 4,169 passing yards, 24 touchdowns, 11 interceptions and a 97.0 passer rating, Indianapolis fans have to be excited about the prospect of adding a more dynamic talent to the position.
"They've been pretty methodical and waiting for the right time to strike. This could be the time [at quarterback]," said an AFC executive regarding the Colts, per ESPN.com's Jeremy Fowler.
Check out our list of the five best options Indianapolis could go with to replace Rivers for 2021 and beyond.
Matthew Stafford
he Detroit Lions have failed Stafford. Simply put. They've hired a new general manager in Brad Holmes, who's made it clear the whole roster is under evaluation, Stafford included. Detroit is picking high enough (No. 7 overall) in the 2021 NFL Draft to go in a new direction at the quarterback position, opening the door for Stafford to seek greener pastures.
Stafford couldn't join a much better organization who's in the market for a new signal-caller than Indianapolis. GM Chris Ballard has done an exceptional job assembling a competitive team, and all that's really missing is a more dynamic field general to trigger Reich's offense.
Still only turning 33 years old in February, Stafford has multiple years of his prime left. Too many of them have already been squandered in Detroit. It probably won't take a first-round pick to pry Stafford away from the Lions, so the Colts could still add another playmaker.
Plus, Indy is an ideal trade partner to take on Stafford's salary, with the third-most cap room in the NFL next season at about $65.5 million, per Over the Cap.
Matt Ryan
If the Atlanta Falcons can pull off a trade for Matt Ryan on or after June 1, 2021, they'll save a net of $23 million against next year's cap. That's a big deal, considering Atlanta is currently projected to be more than $26 million over the league limit as of now.
Everything happening with the Falcons right now is very reminiscent of the situation with Stafford in Detroit, except even more severe. Ryan, 35, is at the tail end of his prime in all likelihood. Atlanta, too, is in the process of finding its new coaching staff under Arthur Smith, who seems intent on keeping Ryan. However, the team is also going to have the No. 4 overall pick in the 2021 NFL Draft, with a new, more dynamic and cheaper QB within reach.