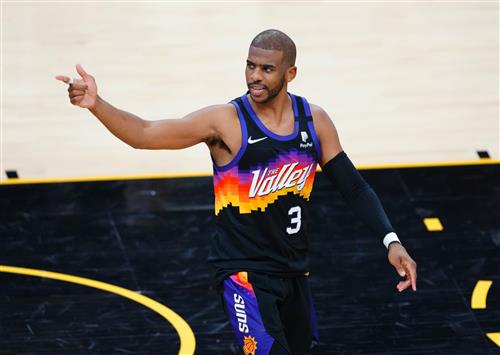 Fresh off a loss in the NBA Finals, Phoenix Suns guard Chris Paul has a $44.2 million decision to make in the coming days. The future Hall of Famer can opt out of his contract and hit NBA free agency. At this point, that seems to be a foregone conclusion.
While it makes sense that Paul would return to Phoenix, there's a number of other contending teams interested in the 11-time All-Star's services. For good reason. Despite being at the advanced age of 36, Paul was brilliant for the Suns a season ago. He averaged 16.4 points, 4.5 rebounds and 8.9 assists on 50% shooting from the field. Below, we look at five ideal destinations for CP3 this summer.
Chris Paul re-signs with the Phoenix Suns
From an on-court and financial standpoint, this makes the most sense for Paul. He led the Suns to within two wins of earning their first ever NBA title and built a tremendous relationship with fellow backcourt star Devin Booker.
It's also important to note that the 36-year-old Paul is looking to cash in big time for that final time as he enters the twilight of his career. He can get roughly $45 million more in cold hard cash by re-signing with the Suns for four more years rather than joining another organization. Given that the only accomplishment missing from Paul's resume is a title, returning to the Suns makes too much sense.
Chris Paul teams up with LeBron James
Immediately after Paul and his Suns were eliminated in the NBA Finals, rumors came out of Southern California regarding the Lakers' interest in the future Hall of Famer. Legendary former star Magic Johnson added another element to that on social media.
To be perfectly clear, the Lakers are going big-game hunting as they attempt to upgrade over Dennis Schroder at point guard. That includes both Paul and Russell Westbrook. While the on-court fit with LeBron James and Co. makes a ton of sense, it's highly unlikely that Los Angeles will be able to acquire Chris Paul. It would require a sign-and-trade with the Suns. Would Phoenix even consider taking on Schroder, Kyle Kuzma and cap-fillers? I don't think so. Even then, it's a fun scenario to look at.