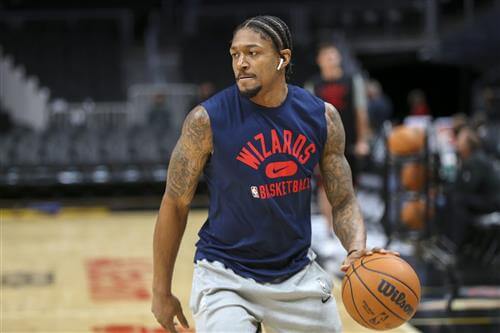 Bradley Beal is one of the most talented shooting guards in the game right now because he is an offensive machine that is very capable of averaging at least 30 PPG in a season. Starting off as a spot-up shooter that benefitted from John Wall's playmaking in Washington, Beal has worked on his game to add a greatly improved ability to create his own shot and also lead the offense with his playmaking.
The 3-time All-Star has certainly made a name for himself in the NBA in the past few years and will be a free agent this summer. His 2-year extension with the Wizards has ended, and there has been a ton of discussion on where the All-Star should end up. Possibly, Bradley Beal might not want to carry a subpar franchise on his back anymore and could be looking elsewhere, although he has stated on multiple occasions that he is happy in D.C. After all, the team added former All-Star Kristaps Porzingis during the season.
But Wizards fans are still holding their breath because losing Beal would ultimately kill their chances of being a playoff team in the near future. He has to make a decision. Does he want to sign a 5-year, $241.6 million contract with the Wizards, or to sign with some contender and chase the championship in the future?
While we won't know for sure if Beal is in it for the long term, Beal will look at the free agency with the intention of finding the best possible place for him to find success on the court. As he approaches 29 years of age, here are the top-5 destinations for the 3-time All-Star shooting guard this summer, with four of them able to offer sign-and-trade deals.
5. New York Knicks
Trade Package: Immanuel Quickley, Obi Toppin, Mitchell Robinson, 2022 First-Round Pick, 2026 First-Round Pick, 2027 First-Round Pick For Bradley Beal
After New York suffered all season long with poor play and the inconsistency of Julius Randle and company, many NBA fans feel that the Knicks should blow it up. But instead of taking severe action due to a poor season, perhaps making changes and giving Randle an All-Star perimeter player could be the key. The answer could come in the form of 3-time All-Star Bradley Beal.
Beal can be the key for the Knicks returning into the playoffs because he can create his own offense and carry the ball up the court. A duo of Beal and Randle would almost certainly be enough for the Knicks to be competitive in the East again because a little-big man duo that can score has historically been a great thing. Most importantly, New York needs to find a consistent scorer that can actually average over 25 PPG with ease.
New York is onto something with a core of Randle, RJ Barrett, and even Cam Redish, but they need to complete the lineup with a legitimate All-Star. The Knicks have not had a go-to scorer who can average at least 25 PPG since Carmelo Anthony, and the NBA is a better place when New York has an offensive star that can take over games. For Washington, they might have to accept a rebuild package that includes a hefty three first-round picks and a young big in Obi Toppin.
4. Denver Nuggets
Trade Package: Michael Porter, Will Barton, Monte Morris, 2022 First-Round Pick, 2028 First-Round Pick For Bradley Beal
Superstar Nikola Jokic has just won his second-straight MVP award, yet Denver has been unable to return to the Western Conference Finals as they did in 2020. Of course, the injuries to Jamal Murray and Michael Porter Jr have been the biggest reasons for that, because Denver is operating as somewhat of a one-man show. Jokic is a special talent, and at only age 27, there is still plenty of time for him to carry the Nuggets to the promised land. He just needs an extra boost by his side.