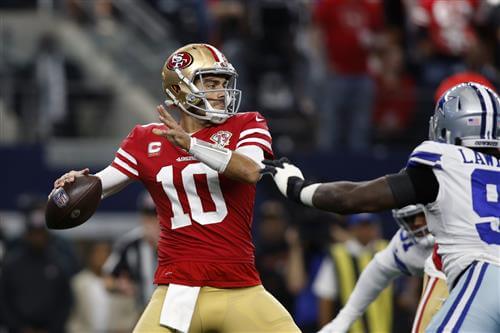 The San Francisco 49ers are completely focused on their Divisional Round game against the Green Bay Packers, but the offseason is right around the corner.
Whether the 49ers win the Super Bowl or face defeat in Green Bay on Saturday, the team will have to figure out what to do with quarterback Jimmy Garoppolo. Since drafting Trey Lance with the third overall pick of the 2021 NFL Draft, the expectation for the 49ers seems to be trading Garoppolo and moving forward with Lance.
Jason Smith, host of the Jason Smith Show with Mike Harmon on Fox Sports Radio, dropped a bold prediction on Twitter that sees Jimmy G going to the Pittsburgh Steelers.
"Steelers QB next season will be: Jimmy Garoppolo," Smith said. "Regardless of how post-season goes, 49ers HAVE to go to Trey Lance next season. Jimmy is limited but he's better than Roethlisberger & I'd be aggressive right way if I were Pitt. Maybe a 1st and a 3rd would get it done early."
It'd be a sensational deal for the Niners, who would be rid of a $26.9 million cap hit, per Spotrac. A first and a third would completely set up the 49ers to add more depth across the board, especially since they traded their 2022 first-round pick to move up and take Trey Lance.
49ers Universe Responds
Part of the reason the deal would be so sensational is that it's hard to imagine Garoppolo going for that price tag. That's where 49ers Webzone writer Rohan Chakravarthi takes issue with the prediction.