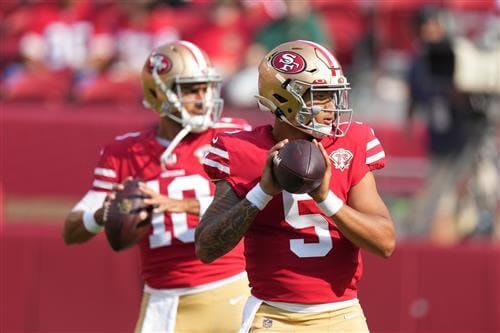 If the San Fransisco 49ers were smart, there would be no debate over their quarterback situation, Trey Lance would easily get the nod over Jimmy Garoppolo.
Let's be honest: Garoppolo is what he is at this point. A rather handsome man who backed up another handsome man in New England for several years, somehow inflating his value as a player in the process, who is clearly a limited gunslinger and one that often hurts the 49ers via those same limitations.
Is Handsome Jimmy Garoppolo awful? Of course not. He's fine. But that's the issue. He's mostly just ho-hum enough to make some folk think he's solid; though he's kind of just floating around behind center making little impact whenever trotting about blades of grass in a Niners' uniform.
Trey Lance, on the other hand, is certainly a bit of an unknown to most fans. Coming out of North Dakota State, it wasn't until the NFL Draft began looming that casual fans took note of the dynamic gunslinger.